The main idea of project is to redefine the internal system of towers, which is characterized by uniform program and spatial organization, in order to achieve more flexible and more active use of space. Design of new envelope will enable this change.
Struktuiranje opne kao okvira nove prostorne i programske organizacije kula: Rekonstrukcija visokih stambenih zgrada u naselju Konjarnik u Beogradu
Projekat se bavi rekonstrukcijom visokih stambenih zgrada u naselju Konjarnik. Osnovna ideja projekta je da se unutrašnji sistem kula, koji odlikuje jednolična programska i prostorna organizacija, redefiniše kako bi se omogućilo fleksibilnije i aktivnije korišćenje prostora. Ovu promenu omogućava projektovanje nove opne objekta – okvira za struktuiranje nove prostorne i programske organizacije kula.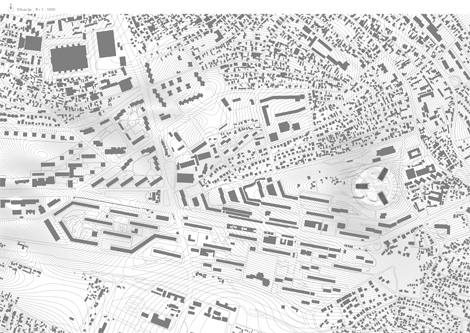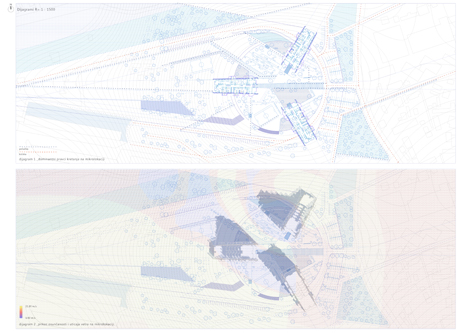 Analizom lokacije uočena su četiri primarna problema zatečenog stanja. Prvi problem se odnosi na zastupljenost dominantno jedne funkcije, koja se prostorno artikuliše kroz repetativno ponavljanje stambenih jedinica. Fizička struktura kula je nefleksibilna[1], i kao takva nije dovoljna za programsko i prostorno transformisanje unutrašnjeg prostora kula. Takođe, fasada kula predstavlja jedan od najznačajnijih problema kod ovih objekata.[2] Uticaj vetra koji je veoma izražen na ovoj mikrolokaciji[3] predstavlja osnovni razlog za to što se otvoreni javni prostori pasivno koriste.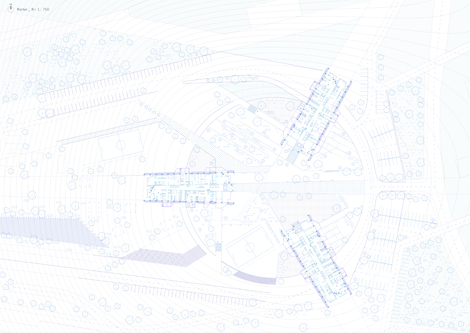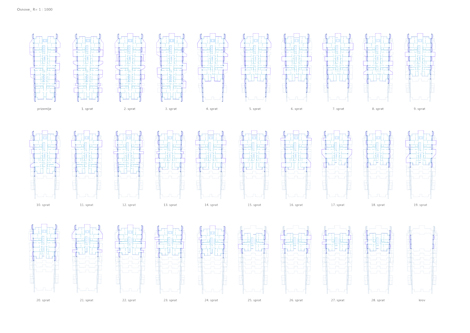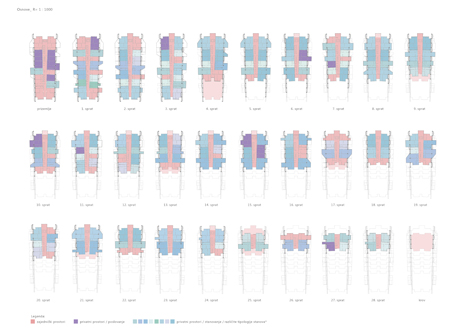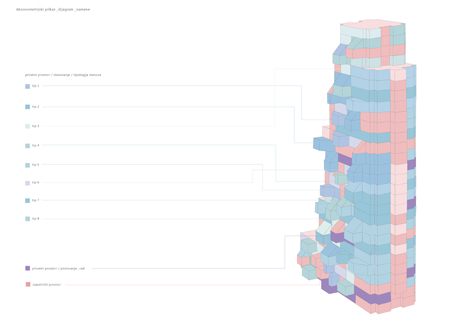 Prepoznati problemi postaju osnovni parametri za projektovanje nove opne objekta, čijim se formiranjem povratno ostvaruje sinteza neophodnih principa za rešavanje prepoznatih problema.
Projektantska strategija podrazumeva projektovanje nove opne objekta koja će prostorno omogućiti dogradnju kula u vidu ekstenzija[4] i struktuiranje mreže mesta[5] u prostoru kula. Kako bi se unutar kula mreža mesta razvila, neophodno je uvesti ekstenzije kao prostorni dodatak stanu. Ekstenzije postaju zamena za prethodno oduzete prostore stanu, i donose mu novi prostorni kvalitet. Struktura opne, pored sistema ekstenzija, u sebi integriše i sistem elastičnih panela koji koriste energiju vetra za generisanje električne energije.[6]
Kompleksna struktura nove opne objekta u sebi integriše sintezu neophodnih principa kojima se omogućava istovremena korelacija opne sa svim parametrima koji su učestvovali u njenom projektovanju.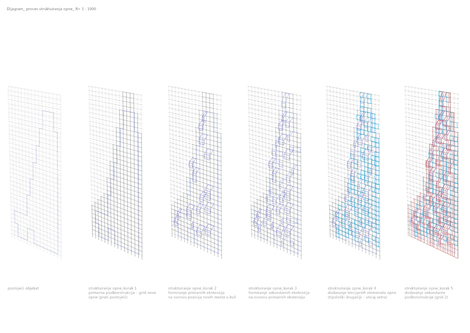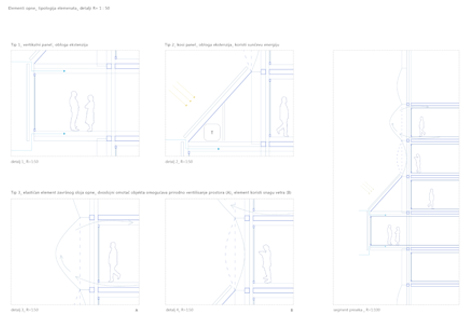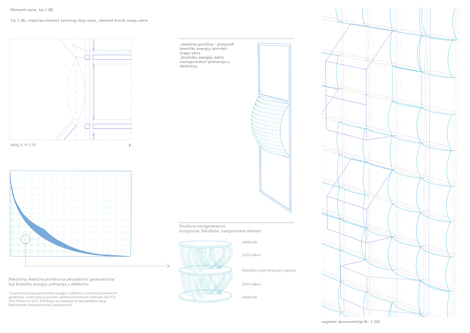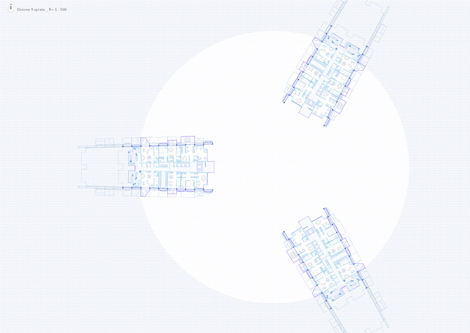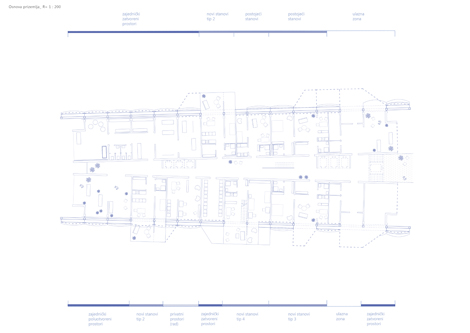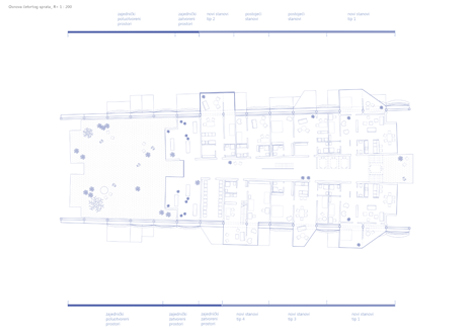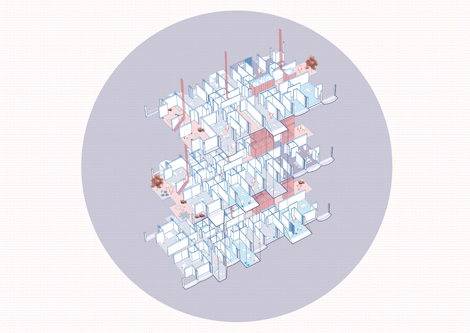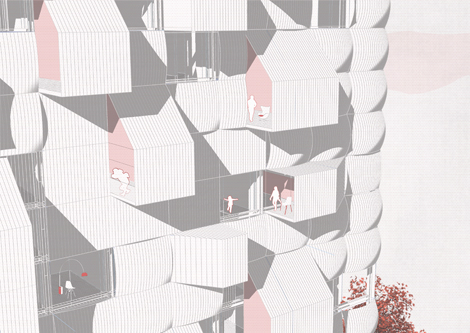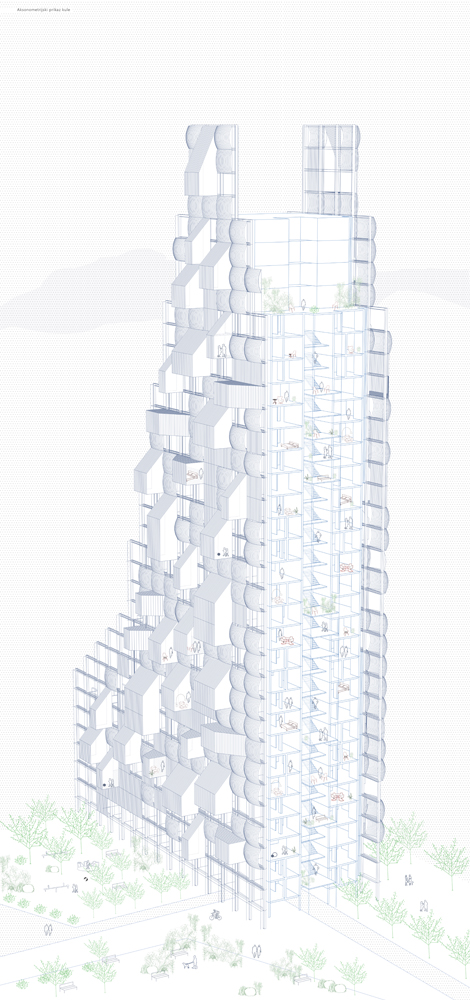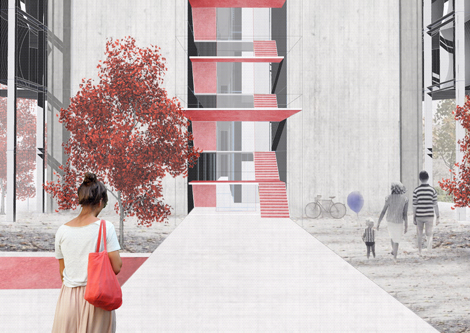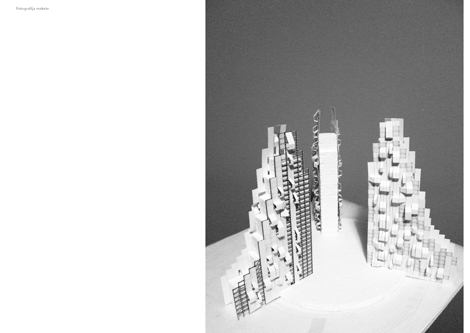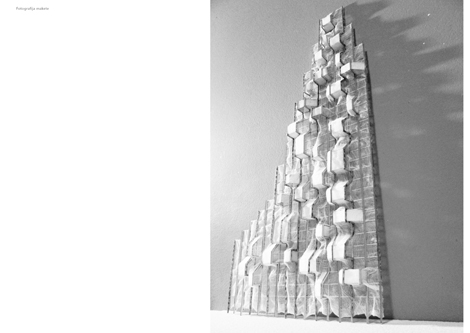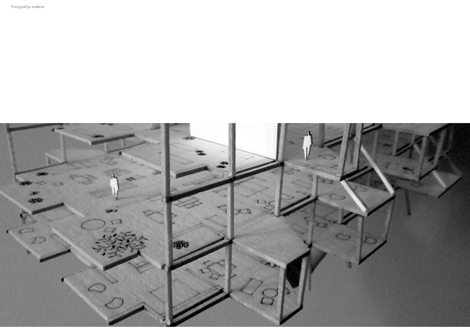 ---
[1] Svetislav Vrbić, dipl.inž.građ. u "Izgradnja tri 28-spratna solitera u naselju "Konjarnik" u Beogradu", Izgradnja 12/72, Beograd, str.69., navodi "Visoki deo objekta predstavlja krutu konstrukciju s poprečnim i podužnim AB zidovima na razmaku 4,10m. "
[2] "Sa tri stambena solitera"Rudo" na Konjarniku otpadaju komadi betona od 60kg." u http://www.politika.rs/rubrike/Beograd/Za-nove-fasade-Istocne-kapije-cetiri-miliona-evra.lt.html
[3] Analiza uticaja vetra u odnosu na ružu vetrova za mikrolokaciju _ simulacija u programu Vasari
[4] Ekstenzije kula predstavljaju dodatak stanu i na taj način omogućavaju struktuiranje mreže mesta u prostoru kula, koje predstavljaju dodatak stanovanju.
[5]Martin Hajdeger. "Građenje, stanovanje, mišljenje", u: Petar Bojanić, Vladan Đokić, ur. TEORIJA ARHITEKTURE I URBANIZMA. Arhitektonski fakultet Beograd, 2009, pp. 119
Hajdeger problematizuje pitanje mesta, i odnosa mesta i prostora, na primeru Mosta. Most definiše kao stvar, koja sakuplja stvarajući stanište, dakle stvar kao mesto, koje na taj način daje prostor.
U projektu, mesta označavaju nove zajedničke i javne prostore, koje se tačkasto javljaju u prostoru kula.
[6] Elastični paneli u sebi sadrže piezoelectric nanogeneratore , koji kinetičku energiju pretvaraju u električnu koristeći snagu vetra. Za proces pretvaranja kinetičke energije u električnu sistemom piezoelectric generatora, neophodna je primena elektropolarizovanih materijala (BaTiO3, ZnO, Pb(ZnxTi1-x)O3. Primenjuju se materijali na bazi polimera zbog fleksibilnosti, transparentnosti i postojanosti. Nanogeneratori su fleksibilni i transparentni. Njihova struktura je sačinjena od 5 slojeva – elektrode, ZnO vlakna, fleksibilan polimerizovan supstrat, ZnO vlakna, elektrode. Reference:
1. Piezoelectric Nanogenerators for Self-Powered Nanodevices, Zhong Lin Wang, Xudong Wang, Jinhui Song, Jin Liu, i Yifan Gao Vol. 7, No. 1 January–March 2008, http://www.nanoscience.gatech.edu/paper/2008/08_PVC_1.pdf
2. Windwaker sculpture, Julio Alejandro, Romero Alonso i Miguel Angel Lopez Carro, Copenhagen, Land Art Generator Initiative competition, http://www.designboom.com/architecture/romero-alonso-lopez-carro-windwaker-landart-energy-denmark-08-07-2014/