Modul M6.2 Seminar, 2 ESPB
Naziv Predmeta: Istraživanje kroz projekat – Adaptivnost
docent Djordje Stojanović, asistent Milutin Cerović
Naziv predavanja: Uvod
Sadržaj predavanja: Uvodne napomene o kursu i temi uz prezentaciju ciljeva, pristupa i sadržaja nastave

Ciljevi i pristup nastavi: 1.) Razumevanje uloge adaptivnih principa u arhitektonskom projektovanju. 2.) Upoznavanje sa alatima i strategijama u arhitektonskom projektovanju, koje se zasnivaju na adaptivim principima; koje istovremeno zahtevaju i omogućavaju primenu nove tehnologije. 3.) Razumevanje odnosa između teorije i prakse arhitektonskog projektovanja. 4.) Razvijanje analitičkih veština i metoda istraživanja u oblasti arhitektonskog projektovanja. 5.) Razvijanje kritičkog mišljenja, sposobnosti kvalifikovanog korišćenja izvora i pismene komunikacije. 6.) Razumevanje profesije i uloge arhitekta u društvu, posebno u odnosu na srodne discipline kroz ekonomske, sociološke, ekološke i tehnološke faktore.
Sadržaj nastave: 1.) Pregled različitih vidova istraživanja kroz projekat. 2.) Upoznavanje sa vidovima istraživanja u oblasti arhitektonskog projektovanja i različitim ulogama modela (analognom, performativnom i prototipskom) u procesu arhitektonskog projektovanja koje omogućavaju uključivanje znanja iz drugih oblasti u okvire arhitekture. 3.) Izučavanje principa projektovanja, konstruisanja i materijalizacije arhitektonskih objekata.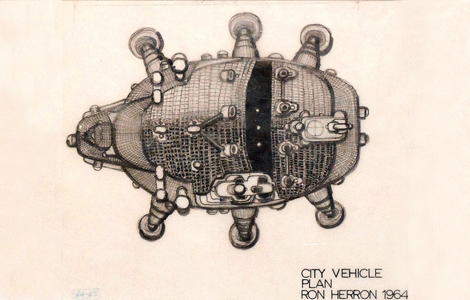 Ron Harron, Walking City Sketch Plan 1964 ©Archigram Archives http://archigram.westminster.ac.uk/project.php?revID=32
Obavezna literatura:
Allen, S. 2000. Practice: architecture, technique and representation. New York and London: Routledge.
——————————————————————————————————————
Preporučena literatura:
Ayres, P. 2012. Persistent Modelling – reconsidering Relations. In: Persistent Modelling, Extending the Role of Architectural Representation. London: Routledge. pp.1-9.
Freiser, J. 1995. An Evolutionary Architecture. London: Architectural Association Publications.
Kolarević, B. 2003. Architecture in the Digital Age: Design and Manufacturing. London and New York: Spon Press (Taylor and Francis).
Kolarević, B. and Malkawi A. 2005. Performative Architecture: Beyond Instrumentality. London and New York: Spon Press (Taylor and Francis).
Schnädelbach, H. 2010. Adaptive Architecture. A Conceptual Framework. (online) Available at: <

http://www.cs.nott.ac.uk/~hms/pdfs/Schnadelbach_AdaptiveArchitectureConceptualFramework_MediaCity2010.pdf

> (Accessed 15 March 2013).
Wachsmann, K. 1961. Turning point of building. New York: Reinhold.
Tags: Lectures