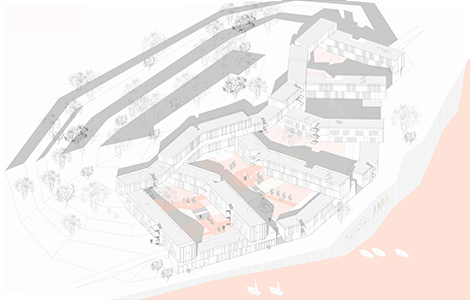 POLIDAKTILIJA
 Predložena koncepcija se zasniva na prilagođavanju organizacije stambenog bloka remodelovanom terenu. Blizina prometnih saobraćajnica uslovila je formiranje zaštitnog pojasa u vidu  pošumljenog uzvišenja koje štiti naselje od buke.
Sklop je proistekao iz atrijumskog tipa sa dvorištima kao mestima mogućeg okupljanja suseda. Objekat se širi i pada ka jezeru u vidu šest uskih prstiju, između kojih se formiraju zajednički prostori stanara – travnati amfiteatri sa pogledom na vodu. Razuđeni objekti formiraju krovne terase koje su dostupne svim stanovnicima naselja.
POLYDACTYLY
The proposed conception is based on adapting the organization of housing block to remodeled ground. Nearness of busy roads caused the formation of a buffer zone in the form of forested hill that protects the apartment block from the traffic noise.
Complex  arose from the atrium type with yards as gathering places for neighbors. The facility is spreading and falling through the lake in the form of six narrow fingers. Between these fingers common areas are organized for tenants – a grassy amphitheaters overlooking the water. The finger-like buildings have roof terraces that are available to all residents of the settlement.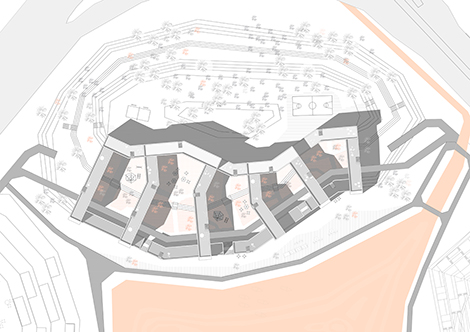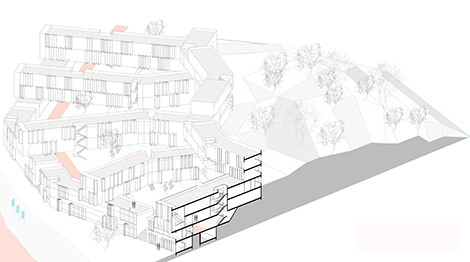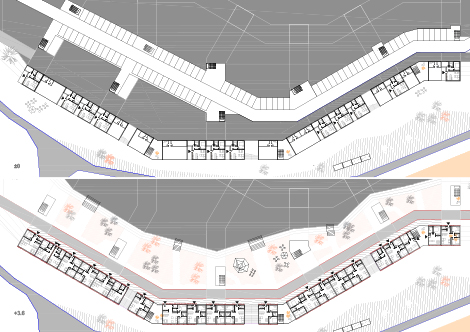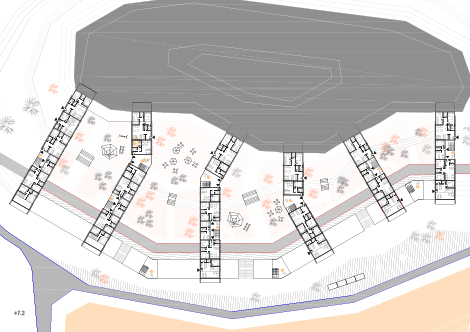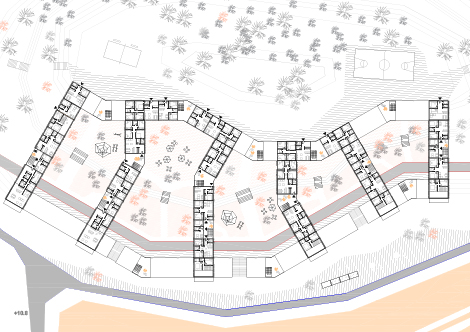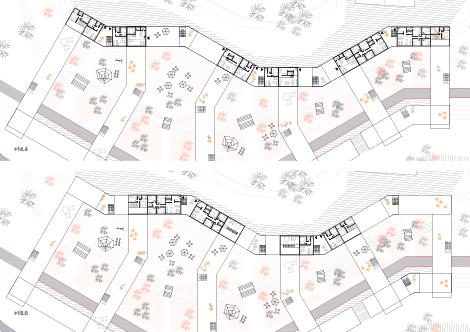 Svaki stan ima direktan ili indirektan pogled na jezero, skoro svi imaju dvostruku orijentaciju, dovoljnu osunčanost i provetrenost.
U rasteru od 8 m organizovano je više od 13 tipova stanova, od jednosobnih do petosobnih, pretežno zatvorene ali i otvorene organizacije unutrašnjeg prostora.
Drveni paneli i grilje su osnovni element fasade, koji integrišu objekat u prirodno okruženje, štite od pogleda i sunca, daju ritam i slobodu organizovanja prostora.
Each apartment has a direct or indirect view of the lake, almost all have a double orientation, enough sunlight and ventilation.
More than 13 types of apartments are organized in the raster of 8m. From one bedroom to five bedroom apartmemts, they are mostly closed but also in an open interior space
Wood paneling and shutters are the basic element of the facade, which integrate the building into the natural environment, protect it from the public and the Sun while giving rhythm and freedom to organize living space.