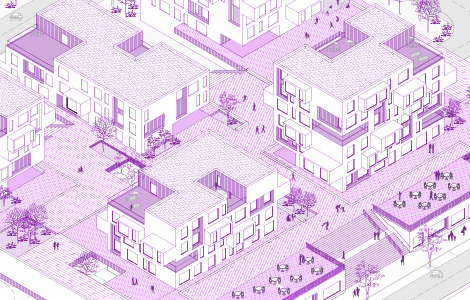 Kontekst "kraja grada" tumačimo kroz koncept platforme kao ujedinjujućeg elementa svakog stambenog bloka. Platforma usmerava svakodnevni život u bloku, generišući zajedničke aktivnosti stanara u otvorenim prostorima između zgrada. Uvodjenjem novog tipa prostora odignutog od nivoa prizemlja, uspostavlja se postepeni prelaz sa javne gradske ulice do intimnih prostora pojedinačnih stanova.
Specific context at the edge of the city is interpreted by introducing platforms as unifying elements of every housing block. The platform directs everyday life within the block,  generating common activities in the in-between open spaces. The introduction of new type of space,  elevated from the ground level, gradually forms a transition from public city street to intimate spaces of the apartments.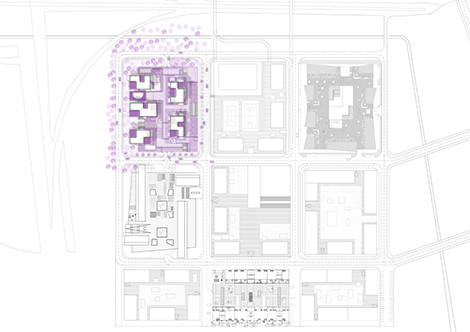 Strateškim oduzimanjem i dodavanjem volumena osnovnoj jedinici stana postignuto je formiranje novih tipova stambenih prostora, a radi pospešivanja kvaliteta i individualnosti stanovanja:
(1) oduzimanjem nastaju zajedničke lodje koje dele dva susedna stana i krovne lodje dostupne svim stanarima,
(2) dodavanjem se dnevne zone proširuju u vidu privatne terase, kutka za čitanje, radne zone, a noćne zone dobijaju izdvojen studio.
Strategic addition and subtraction of volumes from a basic dwelling unit creates new types of living spaces that improve the overall quality of everyday life:
(1) subtraction creates shared terraces between two apartments and rooftop terraces available to all residents,
(2) addition extends living rooms to a private terrace or reading space, and master bedrooms to a studio.