Modul M9 Master projekat, 30 ESPB
naziv zadatka: DIGESTIVNI SISTEM ARHITEKTURE
doc. Djordje Stojanović, ass. Milutin Cerović
Master akademske studije – Arhitektonski fakultet Univerziteta u Beogradu
Tematski okvir zadatka obuhvata pitanje hrane, odnosno procesa koji podrazumevaju proizvodnju, distribuciju i konzumaciju prehrambenih proizvoda u današnjim gradovima. Kroz rad na završnom projektu, studio nastoji da razotkrije skrivene tokove i obrasce koji povezuju hranu sa arhitektonskom formom, njenom prostornom organizacijom i kontekstom. Lanac koji počinje proizvodnjom i završava se konzumiranjem hrane predložen je kao polje istraživanja različitih tehnoloških, kulturnih i socijalnih prostornih događaja: od razmere pejzaža i teritorije koju povezujemo sa uzgajanjem i proizvodnjom do različitih vidova pripreme i konzumiranja u urbanim sredinama. Razmatraćemo prostorne posledice koje se danas javljaju usled diferencijacije između ruralnih sredina u kojima se hrana proizvodi i urbanih sredina u kojima se hrana konzumira, a zatim pokušati da uspostavimo prostornu tipologiju koja sadrži objedinjene karakteristike ova dva polariteta. Kroz izradu arhitektonskog projekta, istražujemo kakvu ulogu može imati arhitektura u produkciji i potrošnji hrane.Za razliku od poznatog arhitektonskog razumevanja prostora kroz program, pred studentima je zadatak da predlože alternativni vid organizacije zasnovan na različitim odnosima i procesima vezanim za ishranu – od privatnog, kolektivnog i javnog  do uslužnog i komercijalnog. Cilj je uspostavljanje kritičkog odnosa između objekta i većeg prostornog sistema čiji je deo. Polazimo od predpostvke da arhitektonski objekat nije samo rezultat osmišljenog projektantskog procesa već nastavlja svoj život kao aktivni deo različitih materijalnih tokova i događaja.Predviđenimetod se zasniva na uočavanju, prevođenjui interpretaciji karakteristika dinamičkih materijalnih sistema na arhitektonski objekat.   
Prostorni okvir zadatka čini lokacija https://maps.google.com/ uz Volginu ulicu, blizu najviše topografske tačke na reljefu grada Beograda. Predviđena parcela je okružena Zvezdarskom šumom i trenutno pripada zapuštenom i nefunkcionalnom Sportskom centru koji je bespravno nastao tokom devedesetih godina, na mestu poznate beogradske kafane i javne zelene površine.  
Programski okvir zadatka podrazumeva analizu mogućih namena lokacije i pronalaženje adekvatnog odnosa među njima. Očekivani rezultati treba da ponude hibridna rešenja koja osciliraju između stanovanja, ugostiteljstva, komercijalnih sadržajairekreacije.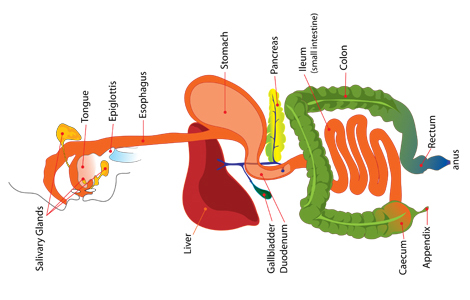 Digestive system. Copyright © 2013 Health, Medicine and Anatomy Reference Pictures.
References:
Franck, K. A. 2005. Food for the City, Food in the City. AD 75. pp. 35–42.
Steel, C. 2009. Hungry City: How Food Shapes Our Lives. Vintage, London.
P. de Rooden , A. Grubb, H. Wiskerke, and  Sheppard L. 2012.  Food for the City: A Future for the Metropolis. NaI Publishers, Rotterdam.
Pollan, M. 2013. Cooked: A Natural History of Transformation. Penguin, NY.
Roach, M. 2013. Gulp: Adventures on the Alimentary Canal. W.W. Norton and Company, NY.
N. Myhrvold, C. Young, and Bilet, M. 2011. Modernist Cuisine: The Art and Science of Cooking. Cooking Lab, WA.
Miralles, E. and Prats, E. 1990. How to lay out a croissant, Horizontal equilibrium. El Croquis 72 1995. pp 240-41.
The Social Use of the Kitchen. Ottagono 48/1978.

http://socks-studio.com/2012/06/14/the-social-use-of-the-kitchen-from-ottagono-481978/
Film:
The Foods that Make Billions,(Liquid Gold, The Age of Plenty, Pots of Gold), BBC2 Documentary 2010.

http://www.bbc.co.uk/programmes/b00wdf5t

The future of food, BBC Documentary,  2009. 

http://www.bbc.com/future/story/20140206-the-future-of-food

Eat Drink Man Woman, Ang Lee 1994.
The Cook, the Thief, His Wife and Her Lover, Peter Greenaway 1989.
Big night, Campbell Scott and Stanley Tucci 1996.
Perfect Sense, David Mackenzie 2011.