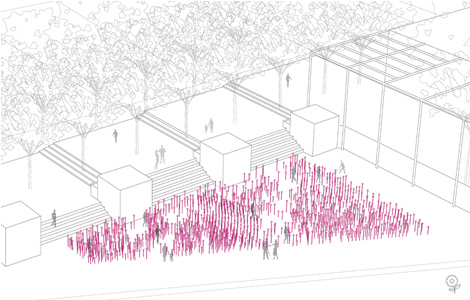 Projekat je zamišljen kao adaptivna interaktivna struktura postavljena na Cvetnom trgu. Primenom hibridnih tehničkih sistema, koji se zasnivaju na prikupljanju informacija iz okoline, određeni su ulazni parametri  ( temperatura, broj ljudi ), i oni direktno uslovljavaju interakcije unutar instalacije. U zavisnosti od  parametara određeni štapići ispuštaju cvetne mirise i različitu boju svetlosti.
The project is conceived as an adaptive interactive structure set up on Cvetni trg. By applying hybrid technical systems, based on the collection of information from the environment, input parameters (temperature, number of people) are defined, and they directly influence the interactions within the installation. Depending on the parameters, certain sticks release floral scents and different color of light.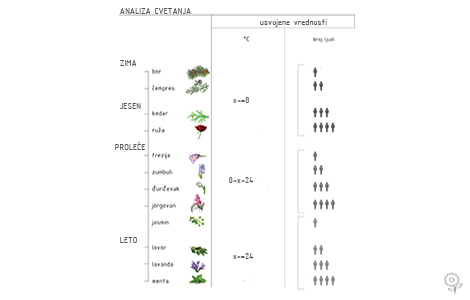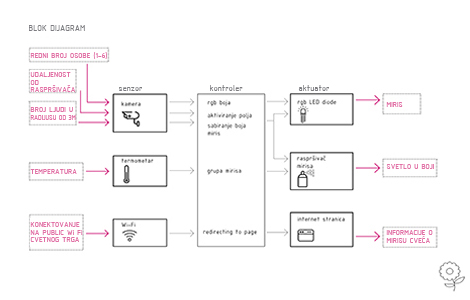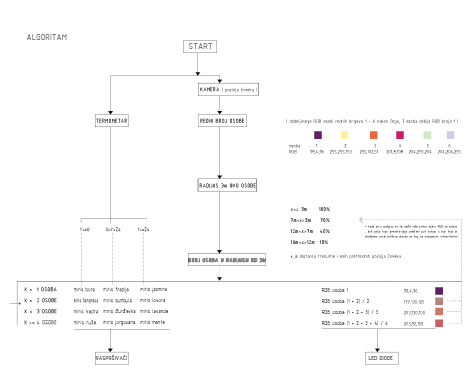 Kamera registruje čoveka, koji ulazi u prostor instalacije i dodeljuje mu se određeni redni broj ( 1 – 6 ) kao i boja koja je specifična za njega. Na trgu su postavljeni detektori koji reaguju ukoliko je osoba u njihovom radijusu od 3m, pri čemu lampice u tom trenutku svetle sa 100% svetlosnog fluksa i ispuštaju miris koji je zadat algoritmom. Pomeranjem osobe intenzitet svetlosnog fluksa opada procentualno u odnosu na udaljenost od početne tačke. Ukoliko se dve osobe susretnu, njihov RGB se sabira i emituje se nova boja. Takođe, susret dve osobe utiče i na promenu mirisa, koji štapići ispuštaju.
The camera registers a person entering the installation space and assigns a specific number (1-6) and a color that is specific to him. Detectors positioned on the market react when a person is in the radius of 3m, while the lamps at that time illuminate with 100% of the light flux and emit a scent that is set by the algorithm. With the person moving, the intensity of the light flux percentage decreases in relation to the distance from the starting point. If two people meet, their RGB is combined and a new color is emitted. Also, the meeting of two people affects on the change of scent that sticks release.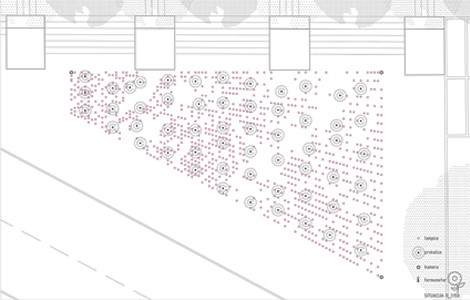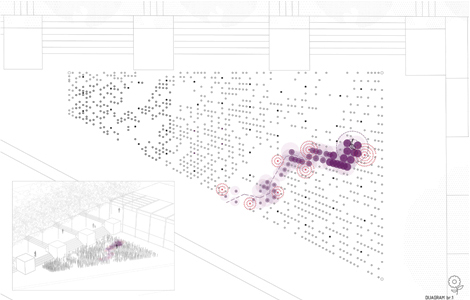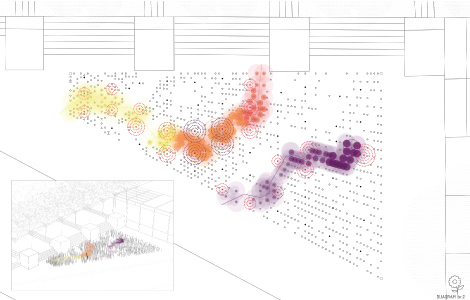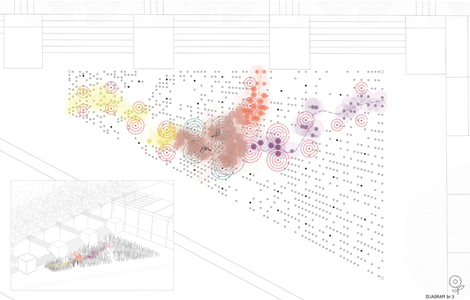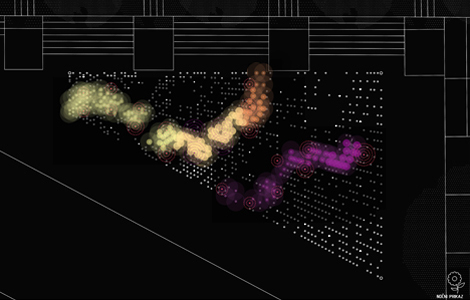 Ideja projekta jeste da interakcija ljudi dovede do promene boja i mirisa na samom trgu. Na ovaj nаčin dobijamo polja cvetnih mirisa koja se prožimaju i pozivaju prolaznike da postanu deo instalacije.
The idea of ​​the project is that the interaction of people leads to a change of colors and scents in the space. In this way, we get fields of floral scents that permeate and invite passers-by to become part of the installation.