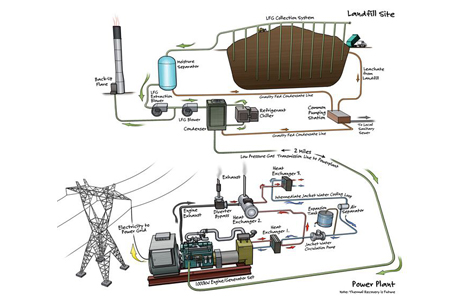 Nature wastes nothing, because of cycling of substances, a pathway by which a substance moves through compartments of Earth, changes form and comes back to the starting point so the cycle can be repeated. What we see as waste, is actually just one of states of substance in a biogeochemical cycle, therefore, the problem is not about the quantity of waste, but it is about the manner in which it is treated.
That way, the Đeram market will become a device that operates on the principle of cycling of substances, so people can learn not to use just one iteration of the process, but to have benefits of each stage in that cycle.
Potencijal na otpadu
Otpad je ogledalo stanja svesti jednog društva. Žižek naglašava: ,, Deo našeg svakodnevnog sagledavanja stvarnosti je da otpad jednostavno nestane iz našeg sveta. Problem je u tome što otpad ne nestaje."[1] Godišnje, u svetu, 1.3 milijarde tona hrane završi na otpadu.[2]
Medjutim, priroda ne proizvodi otpad, ona funkcioniše po principu kruženja materije, koja se transformiše iz jednog oblika u drugi. Tako da je ono što mi sagledavamo kao otpad, zapravo, jedno od pojavnih stanja materije u procesu njenog kruženja u prirodi. Dakle, problem nije u količini otpada, već u načinu na koji se tretira.
Kevin Lynch objašnjava: ,,Otpad je nešto što je bezvredno i što nije od koristi ljudima."[3] Ukoliko znamo da truljenjem hrane nastaje metan, koji se može koristiti za proizvodnju električne energije i gasa, oslobadja se toplota, zatim nastaje organsko djubrivo, mi više ne možemo posmatrati 1.3 milijarde tona hrane koja završi na otpadu kao otpad, već kao gorivo i kao potencijal.
Na taj način, Djeram pijaca postaje prirodni aparat koji fukcioniše po principu kruženja materije u prirodi, tako da čovek, upoznat sa tokovima, ne koristi samo jednu od iteracija tog procesa, već ima koristi od svakog pojavnog oblika materije u toku kruženja.
Vegetacija parkovskog prostora pijace i organski otpad koristili bi se kao osnovni element procesa kompostiranja i proizvodnje organskog djubriva kojim bi se oplemenjivale sadnice koje postoje na pijaci. U procesu kompostiranja stvara se metan koji bi se usmerio na proizvodnju električne energije i gasa za potrebe pijace. Takodje, oslobadja se toplota, koja bi se koristila za zagrevanje vode i prostora u okviru pijace.
Tako nastaje mehanizam koji se zasniva na poznavanju prirodnih tokova i društvo koje ne pokušava da gurne probleme pod tepih, društvo koje zna da otpad ne nestaje magično iz našeg sveta, već da otpad nikad nije ni postojao.
reference:
[1] Slavoj Žižek, u dokumentarnom filmu ,,Ispitan život", Astre Tejlor govori o ekologiji, prirodi i otpadu, gde kaže da nakon što povučemo vodu u toaletu, mi znamo da otpad odlazi u kanalizaciju, ali da na osnovu našeg najelemntarnijeg iskustva, ono nestaje iz našeg sveta.
[2] Food Waste Facts – United Nations Environment Programme
[3] Lynch, Kevin. 1990. The Waste of Place
dijagram 1: Affiliated Engineers, Inc.