Prototypical Architecture
Graduate Programme, Module: Elective Course M8.3 2011/12, 3 ECTS
Djordje Stojanović, Milutin Cerović
Prototypical Architecture is a new Elective Course at the final year of graduate studies at University of Belgrade. The seminar aims to provide an overview and in-depth analysis of the relevant prototypical achievements with emphasis on both digital and analogue techniques used throughout their conception and production. Over the past few years, quest for The New has led architectural avant-garde to engage in relentless production of prototypes, full scale models made to test various ideas and processes. Obsession with the diagram, dominant over the previous architectural discourse is now replaced with working method encompassing construction of models at their own scale. Costly as they are, these prototypes do not have utilitarian purpose; they do not necessarily provide shelter of any kind for instance. The need for their existence also surpasses pure sensorial engagement. Their purpose is equally remote form the representational role of architectural maquette and the need to transform a viewer's perception which is central to art installations. The nature of prototypical architecture is research oriented and its purpose is to operate in the territory not yet visited by the contemporary architectural practice.
Naziv kursa: Prototipska arhitektura

Master akademske studije –  Arhitektonski  fakultet Univerziteta u Beogradu
Modul M8.2, doc. Djordje Stojanović,  ast. Milutin Cerović
U potrazi za novim i boljim, tokom nekoliko poslednjih godina, arhitektonska avangarda svoj rad temelji na izradi prototipa, odnosno modela namenjenih testiranju nekog koncepta ili procesa. Opsesija dijagramom, koja je dominirala u prethodnom arhitektonskom diskursu, sada je zamenjena istraživanjem putem izrade prostornih formi u razmeri jedan na jedan. Ovakve forme nemaju utilitarnu namenu i njihova svrha je podjednako različita od reprezentativne uloge koju ima arhitektonska maketa kao minijaturna verzija projektovanog objekta, ili one koju ima umetnička instalacija koja je usredsređena na čulno poimanje prostora. Uloga prototipske arhitekture je istraživačka i ona se kreće korak ispred savremene arhitektonske prakse. Seminar se bavi pregledom i analizom relevantnih prototipskih dostignuća sa ciljem da približi njihovu ulogu i identifikuje digitalne i analogne tehnike primenjene u njihovoj realizaciji.
Teorijski okvir prototipske arhitekture je utemeljen na odstupanju od tipološke klasifikacije arhitektonskog znanja i upotrebi dijagrama kao osnovnog istraživačkog sredstva za rad u arhitektonskom projektovanju. Po karakteru, prototipska arhitektura je orijentisana ka inovativnom. Sama izrada prototipa podrazumeva proces konstrukcije u kome prostorna struktura nastaje kroz realizaciju odnosa koji se uspostavljaju tokom procesa stvaranja. Formulacija takvih odnosa zauzima centralno mesto u procesu projektovanja. Rezultujuća sturktura ne mora imati upotrebnu vrednost, jer njena uloga leži u sticanju znanja koje se kasnije može primeniti u arhitektonskoj praksi i koje može doprineti stvaranju boljeg okruženja kroz organizaciju i konstrukciju prostora prema zaista aktuelnim pitanjima koja danas prvenstveno obuhvataju ekološke, sociološke i ekonomske aspekte.
Napredak u razvoju digitalne tehnologije i pojava novih medija predstavlja drugo bitno uporište za prototipsku arhitekturu. U velikoj meri ona se oslanja na kombinaciju digitalnih i analognih tehnika i pronalaženje nekonvencijalnih metoda rada koje često prelaze granice profesija. Izrada prototipa podrazumeva proces koji obuhvata koncepciju, vizuelizaciju i materijalizaciju forme. Spajanje tokova projektovanja i materijalizacije (izvođenja) u jedan integrisani proces predstavlja veoma važnu novinu i osnovu za paradigmatsku promenu u arhitekturi.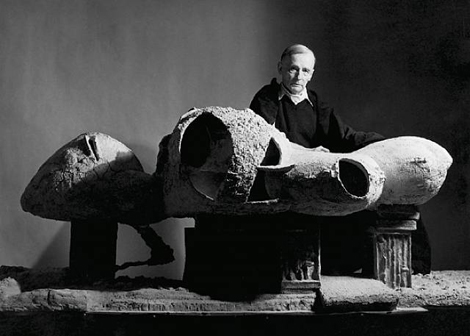 Image credit: Frederick Kiesler with Endless House Model 1959
Case Studies
*Digital fabrication, Sheet materials and CNC machines, Parametric Modelling
[C]space : DRL10 Pavilion, Metropol Parasol : J. Mayer H., Unto This Last
*Doubly curved surfaces, conception, control and materialisation
Honeycomb Prototypes – MATSYS, NonLin/Lin Pavilion : Marc Fornes, Tesselion : SJET, Tape Installation : For Use/Numen, Maximillian's Schell : BallNogues Studio
*Morphogenesis, from finding and structural optimisation
P_Wall : MATSYS, Cummulus_1664 : Ciro Najle, Frei Otto
*Elasticity, soft building materials and cable structures
NET : Numen, Pole Dance : SO-IL at P.S.1, HOMEOSTATIC : Open systmes, Fetehered Edge : BallNogues Studio
*Environment and responsive structures
Hylozoic Ground : Philip Beesley, Olafur Eliasson, Sonumbra : Loop.pH, STEMcloud : Ecologic Studio
*Inflatable structures and membranes
Dream Front : Torafu Architects, EOES : MATSYS, SPACEBUSTER : Raumlabor, Thomas Saraceno, Leviathan : Anish Kapoor, Afterparty at P.S.1 : MOS
*CNC milling, robotic fabrication, algorithmic design, growth, stacking configurations
Blob Wall Pavillion : Greg Lynn, Structural Oscillations : Gramazio & Kohler, Styrofoam Cups+Hot Glue : Tara Donovan, The Unilever Series : Rachel Whiteread
*Kinetic structures
Hoberman, StrandBeest : Theo Jansen, Soft Wall : Molo
---