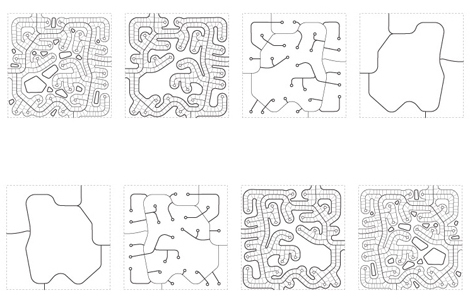 THE COLONY
The colony is the manner of living together in close association in order to survive and produce food. When forming colonies species inhabit new areas and integrate into the existing communities. One such example are bacteria which form large colonies with intricate relations between their members to provide for their nutrition and survival.  This project will explore principles of organic growth in heterotrophic colonies and will try to find their application in architecture. The intent is avoid formal determinacy and look for way to structure processes which will enable adaptability  and flexibility of spatial structures.
Ovaj rad istražuje pitanje organizacije i stvaranja prostornih relacija koje uzrokuje heterotrofni način ishrane. Termin "heterotrofija" preuzet je iz biologije i odnosi se na organizme koji se smatraju konzumentima tj. organizmima koji koriste organske materije iz spoljašnje sredine zarad svog opstajanja. Prelazak jednoćelijskih organizama na heterotrofnu ishranu doveo je do stvaranja prvobitnih oblika zajedničkog života – do formiranja kolonija. Ovo je proces putem kojeg se jedna vrsta širi i naseljava u novim okruženjima. Jedan primer su bakterije kao najbrojnija grupa organizama koja opstaje  u okviru zajednice, odnosno formira gustu mrežu međuodnosa koji omogućavaju prehranu  i opstanak vrste. Heterotrofija je, osim za bakterije, tipična vrsta ishrane višećelijskih organizama, ljudi i životinja. Stoga slične obrasce formiranja bakterijskih kolonija možemo uočiti i kod stvaranja ljudskih zajednica. Izučavanjem međuodnosa rasta heterotrofnih kolonija i njihove forme možemo uočiti princip biološkog rasta. Organski  rast je princip širenja heterotrofnih organizama prilikom kog se jedinke postepeno, spontano, u fazama, na prirodan način razvijaju od manjih grupacija stvarajući sve veće zajednice.  Ovaj rad nastoji da preuzme obrasce razvoja i rasta heterotrofnih kolonijai primeni ih u oblasti arhitektonskog projekotvanja. Cilj projekta nije determinisana arhitekonska forma već uspostavljanje porcesa koji  omogućaju izvestan nivo fleksibilnosti transformacije prostornih struktura. Predviđenu namena čini stanovanje sa sa nizom zajedničkih prostora za produkciju hrane.
Reference:
Horwitz, Jamie. Singley, Paulette. 2004. "Eating architecture" The MIT press, Cambridge, Massachusetts.
Časopis za arhitekturu i kulturu. 2011. "ORIS 69" Arhitekst, Zagreb.
Roach, Mary. 2013. "Gulp: Adventures on the Alimentary Canal" W. W. Norton & Company, Inc. New York.