Modul M6.2 Seminar, 2 ESPB
Naziv Predmeta: Istraživanje kroz projekat – Adaptivnost
docent Djordje Stojanović, asistent Milutin Cerović
Naziv predavanja: O tačnosti u nauci
Sadržaj predavanja: Razjašnjenje prototipske prirode arhitektonskog modela uz analizu slučajeva i pregled relevantnih primera
Na ovom predavanju razmatramo ulogu prototipskog modela u procesu arhitektonskog projektovanja i nastavljamo istraživanje aspekata modelovanja koji podržavaju razvoj adaptivnih principa i iterativne strukture procesa arhitektonskog projektovanja. U prototipske modele u arhitekturi svrstavamo modele čija osnovna namena leži u sticanju saznanja koja se neposredno potom koriste za realizaciju sledećeg modela u nizu iteracija. Svaki model u ovakvom nizu zadržava ključne i zajedničke karakteristike, ali se istovremeno menja i prilagođava tako da njegove performanse prevazilaze performanse njegovog prethodnika. Proces arhitektonskog projektovanja putem primene prototipskih modela razmatramo kao niz iteracija u vidu kontinualnog toka adaptacija, koji za sobom ostavlja vidljivu strukturu. Predmet istraživanja su metodološke odrednice kojima se uspostavlja ciklična veza između formiranja i provere pretpostavki tokom procesa arhitektonskog projektovanja. Na osnovu primene prototipskih modela, razmatramo mogućnost neposrednijeg uključivanje čina evaluacije u sam tok koncepcije arhitektonskog projekta.
Diskusija o značaju prototipskih modela u savremenom i istraživački orijentisanom, radu u arhitekturi zasnivamo na pregledu tehnika i strategija modelovanja koje razvija francuski arhitekta i istraživač Mark Fornes (Marc Fornes), kroz izradu niza prototipskih modela složenih struktura koje čine samo-noseće i dvostruko zakrivljene površi. Tokom niza godina, Fornes usavršava tehniku modelovanja ovakvih struktura putem izrade serije prototipa od aluminijumskog materijala. Tok izrade svakog prototipskog modela je dokumentovan od strane autora i čini primarni izvor informacija za ovo istraživanje.
Među prototipske modele u savremenim istraživanjima, svrstavamo modele koji se proizvode bez razmere i modele koji se realizuju u punoj razmeri objekata koje predstavljaju. Problemi u istraživanju putem izrade prototipskih modela se ogledaju u kvalitetu informacija koje oni generišu i vezuju se za verodostojnost njihove materijalizacije i razmere. U industrijskom dizajnu, prototip se proizvodi u pravoj veličini, razmeri jedan na jedan, i izrađuje se od materijala koji konkurišu za krajnju realizaciju. U arhitekturi, verodostojnost prototipa često nije apsolutna usled razmere i kompleksnosti građevinskih projekata. Uloga prototipskog modela je složenija i nedovoljno definisana usled same prirode građevinske industrije koja obuhvata i oblast arhitektonskog projektovanja.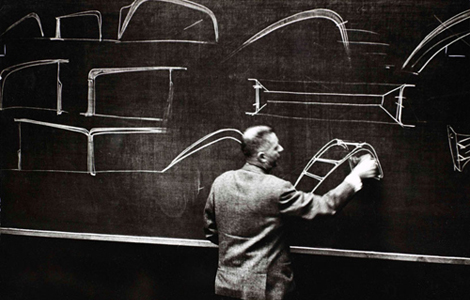 Jean Prouvé giving lecture at the CNAM. ©Fonds Jean Prouvé
Izvori:
Steel, B. 2008. Prototyping Architecture's Future, Again. In: Kolarević, B. and Klinger K. eds. Manufacturing Material Effects: Rethinking Design and Making in Architecture. London and New York:  Routledge (Taylor and Francis). pp1-4
Kolarević, B. 2003. Architecture in the Digital Age: Design and Manufacturing. London and New York: Spon Press (Taylor and        Francis).
Gibson, I. Rosen, D., Stucker, B. 2010 Additive Manufacturing Technologies: Rapid Prototyping to Direct Digital Manufacturing. New York: Springer Science+Business Media.
Sass L. 2004. Rapid Prototyping Techniques for Building Program Study. In: Computer Aided Architectural Design Research in Asia, 9th International Conference. Seoul, Korea 28-30 April. pp.655-70.
Jacobs, P.F. 1992. Rapid Prototyping and Manufacturing: Fundamentals of StereoLithography.  Michigan: Society of Manufacturing Engineers.
Video:
TVM Fornes, M. 2012 Structurant Bark. Proto-ecologies.

http://vimeo.com/53166191

Hansmeyer, M. 2012 Building unimaginable shapes. TED talks .

http://www.ted.com/talks/michael_hansmeyer_building_unimaginable_shapes.html
Studije slučaja:
TVM Marc Fornes

http://theverymany.com/

Michael Hansmeyer

http://www.michael-hansmeyer.com/

Gramazio & Kohler

http://dfab.arch.ethz.ch/
Tags: Lectures