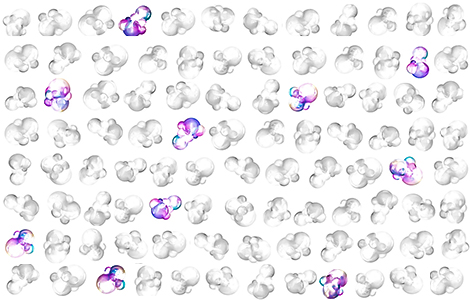 Transformed space of Djeram market becomes a place of synesthetic perception of the city, a materialized cognitive map. And even though smells do not represent a physical constitutive element, they indirectly have an impact on defining and designing spaces where smells are supposed to trigger a process of emotional conditioning.
Main idea for a space of Djeram market is designing space in order to keep authentic smells of food on the market creating the ambience heterogeneous in its sensations. Retention of olfactory signals is achieved by curvature of the ceiling. Each smell, regarding its intensity and specificity, has its own diameter of a dome.
Keywords: Market, Synesthesia, Olfactory, Domes
Olfaktorna percepcija prostora
Za orijentaciju u nekom prostoru i njegovo oblikovanje, koriste se najpre čulo vida, a potom čulo sluha i čulo dodira, dok je čulo mirisa najčešće zanemareno iako učestvuje u formiranju i pamćenju određenog ambijenta i atmosfere. Karen Frank tvrdi: "Hrana u gradu obogaćuje naš svakodnevni doživljaj zvuka, vida i mirisa kroz načine na koji je proizvedena, servirana i konzumirana"[1]. Dakle, ono što hrana, između ostalog, može da uradi za nas jeste da uvede jednu novu dimenziju poimanja javnog gradskog prostora.
Gilroj tvrdi: "Hrana je slast za imaginaciju i za oko"[2]. Prema tome, da bi hrana mogla da se u potpunosti percipira, nije dovoljno samo jedno čulo. Potrebno ju je iskusiti kako čulom ukusa, tako i vizuelnim, audio, olfaktornim i taktilnim čulima da bi zaista postala ključna u okidanju sećanja[3]. Odnosno, za percipiranje takoreći meta-hrane potrebna je sinestezija svih čula. Na isti način je potrebno koncipirati percepciju grada – sinestezijom. Gradski prostori se pamte preko ambijenata. Ambijenti nisu čist vizuelni opažaj. Naprotiv, oni  su set opažaja uslovljeni svim čulima podjednako. Našu impresiju o nekom prostoru stvaraju isprepleteni tokovi zvukova, mirisa, tekstura i ukusa, i kroz sintezno opažanje ovih tokova mi se određenog prostora prisećamo.
Transformisani prostor Đeram pijace postaje mesto sinestetičke percepcije grada, odnosno materijalizovana kognitivna mapa[4], i premda mirisi ne predstavljaju fizički gradivni element, indirektno utiču na definisanje i projektovanje prostora u kojima je predviđeno da oni budu okidači procesa emocionalnog uslovljavanja. [5]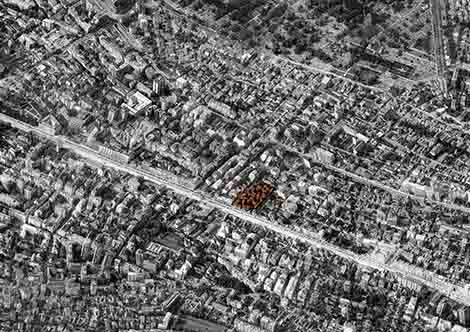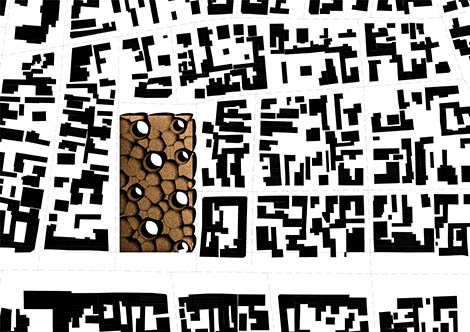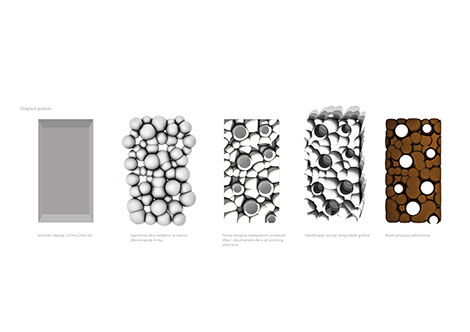 Tačke mirisa (olfaktorni signali), ono što bi u percepciji i pamćenju bili činioci kodova kognitivne mape, činili bi putanju kretanja kroz prostor preko intenziviranih i nadraženih čula. Umesto prostornih repera, imali bismo olfaktorne repere koji u ovom slučaju sprovode pojedinca kroz prostor oblikovan tako da se emitovani signali ne rasprše i ne mešaju, već se zadržavaju u njemu. Zadržavanje olfaktornih signala postignuto je zakrivljenjem tavanice. Svaki miris, u zavisnosti od svog intenziteta dobija svoj prečnik nad kojim se formira kupola.
Da bi olfaktorni reperi zaista funkcionisali kao reperi, bilo je potrebno izvršiti diferencijaciju i skalu jačine repera. Određeni olfaktorni signali (miris ribe, sira, mesa..) bili su znatno dominantniji u odnosu na ostale signale (voće, povrće, začini). Shodno tome bilo je potrebno rasporediti ih po prostoru na način da ne ugrožavaju intenzitet i karakterističnost drugih mirisa podjednako bitnih u kreiranju ambijenta pijace. Takvi mirisi smeštani su pod kupole sa najvećom strelom luka i otvorom na vrhu koji funkcioniše po principu prirodnog ventilacionog sistema.
Mirisi slabijeg intenziteta, s druge strane, zasvođeni su plitkim kupolama velikog radijusa koje omogućavaju dugačku trajektoriju kretanja vazduha po tavanici onemogućavajući mirisu da brzo nestane iz kupolnog prostora. Pored toga, da bi se napravila dovoljna distanca između svakog olfaktornog signala, uvedene su takozvane neutralne kupole, koje služe kao vazdušni filter između mirisa i sprečavaju njihovo mešanje i međusobno potiranje . U ove kupole smeštane su prateće funkcije pijace koje se tiču komunikacije i relaksacije korisnika.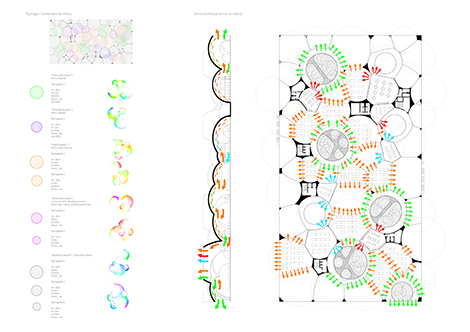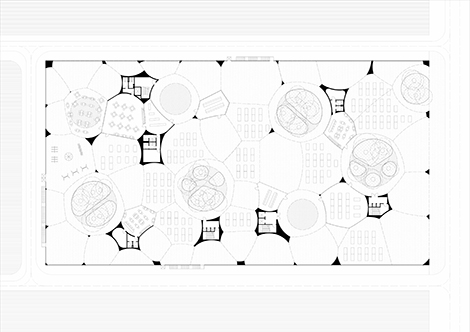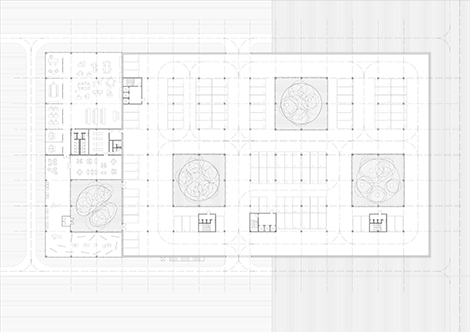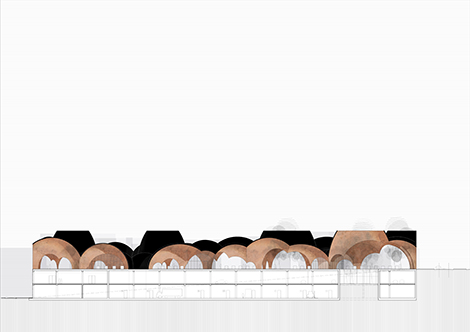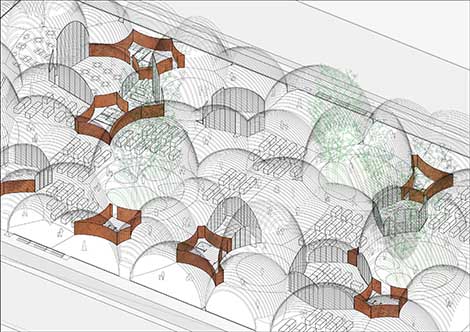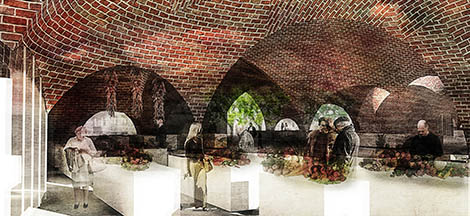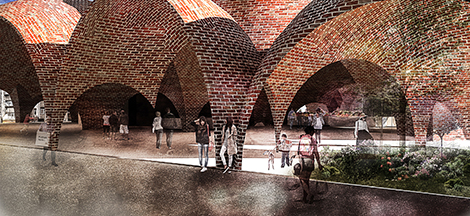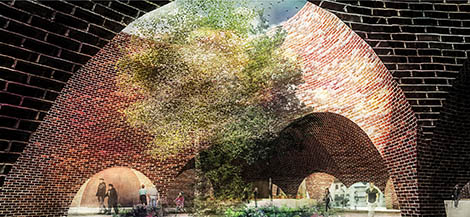 Dakle, osnovna ideja za prostor Đeram pijace jeste projektovanje na način da se autentični mirisi hrane na pijaci čuvaju stvarajući ambijent heterogen u doživljajima. Pored toga, mirisi se koriste kao orijentiri u prostoru na osnovu kojih pojedinac pamti putanje kretanja i razmeštaj aktivnosti i sadržaja. Na taj način, pijaca postaje mesto susticanja svih čula i prostor se opaža ne isključivo materijalno, već i eterično, odnosno kroz prizmu meta-hrane. Uvođenjem čula mirisa u proces projektovanja dobijamo kompletnu percepciju prostora koji nije lišen nijednog čulnog iskustva već ga zaista opažamo zbirno i sinestetički.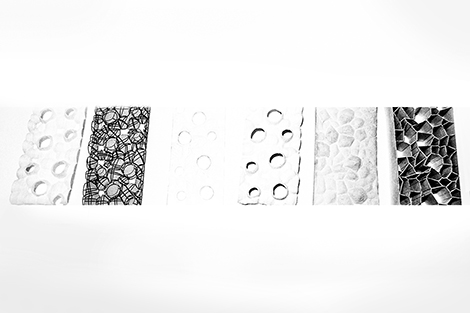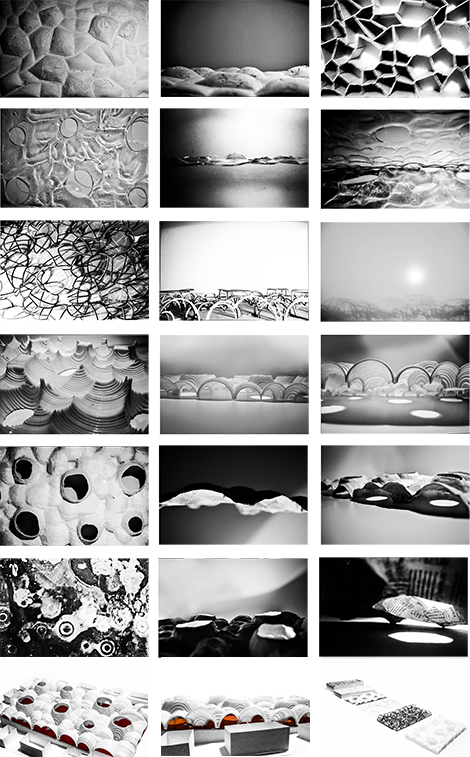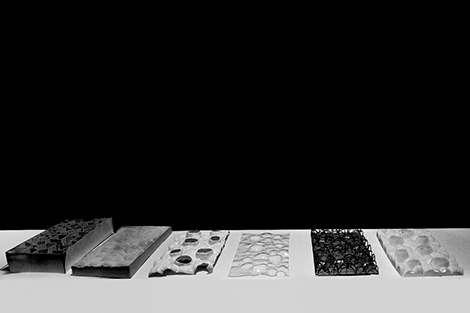 ---