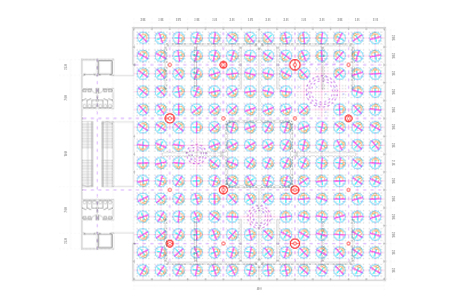 The idea of the project is a completely flexible space that can be used as a completely empty (1600m2 per floor) or as completely full. Flexibility is provided by the elements in the space: the wall panels with neon tubes that can rotate around their axis and move along the rails in 4 directions within their field (9m2). The position of wall panels are determined by the activities in the space. Panels are formed around those activities as iron leaves around the magnetic field; If there are no activities, they are grouped into studios or individually.
Ideja projekta je potpuno fleksibilan prostor koji se može koristiti kao potpuno prazan (1600m2 po spratu) ili kao potpuno pun. Fleksibilnost omogućavaju elementi u prostoru, odnosno zidna platna sa neonskim cevima koja se mogu rotirati oko svoje ose i pomerati po šinama u 4 pravca u okviru svog polja (9m2). Položaj zidnih platna mogu određivati aktivnosti u prostoru oko kojih se platna formiraju kao opiljci gvožđa oko magnetnog polja; Ukoliko aktivnosti nema, platna se grupišu u studije ili se individualno rapoređuju.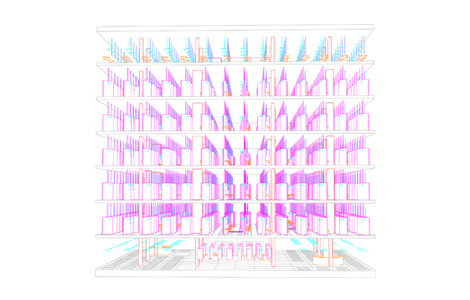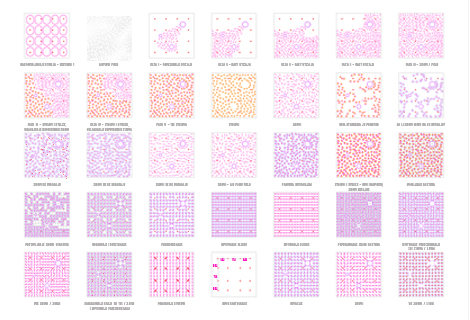 According to the division into fields, the space is provided for 196 students per year, so everyone has their own field with wall panel, but also that there is enough space for walking and transfer of models, tables and chairs (1,5m). Studio is the main unit of space (micro activity), and it is formed according to the number of students who are there at the moment. They turn their panels towards each other, making an arbitrary form of space for group work. Minimum 5 students, and maximum 12 can be in one studio.
Prema podeli na polja, prostor je predviđen za 196 studenata po godini, tako da svako ima svoje polje i zidno platno, ali i da između njih ima dovoljno mesta za prolaz i prenos maketa, stolova i stolica (1,5m). Studio je glavna jedinica prostora (mikro aktivnost), a formira se prema broju prisutnih studenata, koji okreću svoja platna jedni prema drugima, tako da prave proizvoljan oblik prostora za zajednički rad. Minimalno 5 studenata, a maksimalno 12 može biti u jednom studiju.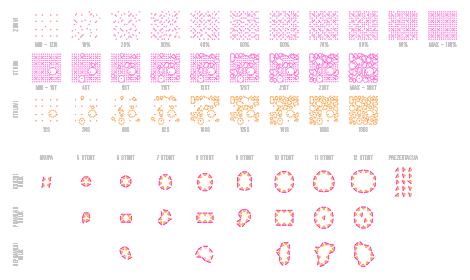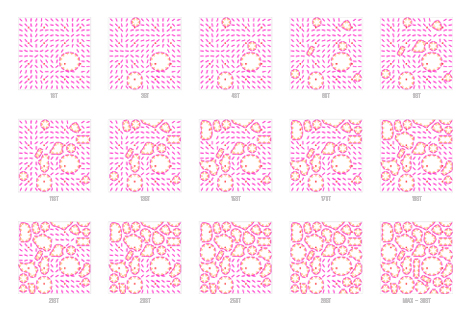 In the center of the floor, between the columns, 9 fields are formed. Each activity must be within one field, with the rule that two activities can not be formed in adjacent fields. Therefore, there may be a minimum of one and a maximum of five on the floor. The main activities are divided to the floors on which they are located and according to the sizes, depending on their impact.
U centru sprata, između stubova, formira se 9 polja. Svaka od aktivnosti mora biti u okviru jednog polja, sa pravilom da se dve aktivnosti ne mogu formirati u susednim poljima. Prema tome na spratu može postojati minimalno jedna i maksimalno pet. Glavne aktivnosti su podeljene prema spratovima na kojima se nalaze i prema veličinama, u zavisnosti od toga koliki je njen uticaj.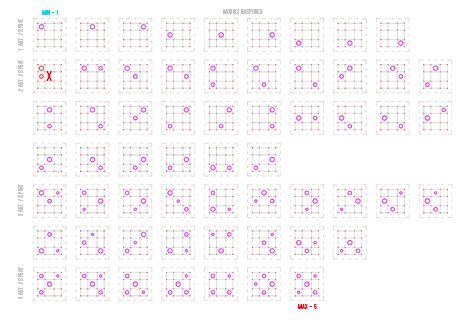 On the ground floor dominant activities are gallery and cafeteria.
On the floors 1-5, improvised amphitheater (organized lecture), rest areas and spatial installations have the biggest influence. Smaller activities include coffee machines and storages. Formation of studios is specific, each of them becomes a micro activity, which means that we can have one or thirty in the space, depending on the number of students who are present that day.
On the last floor there are permanent and dominant activities, library and reading room, as well as a smaller copy studio.
U prizemlju su dominantne galerija i kafeterija.
Na spratovima 1-5 najveći uticaj imaju improvizovani amfiteatar (organizovano predavanje), prostori za odmor i prostorne instalacije. Manje aktivnosti su automati i aparati za kafu i ostave oko stubova. Specifična je pojava formiranja studija, svaki od njih postaje mikro aktivnost, što znači da u prostoru možemo imati jednu ili trideset, u zavisnosti od broja studenata koji su tog dana prisutni.
Na poslednjem spratu su formirane stalne i dominantne, biblioteka i čitaonica, kao i manja skriptarnica.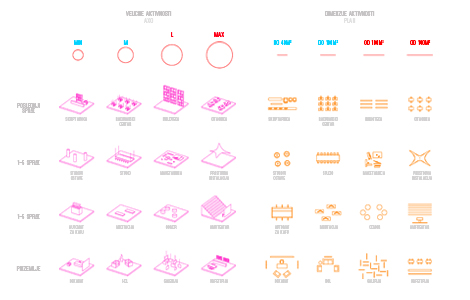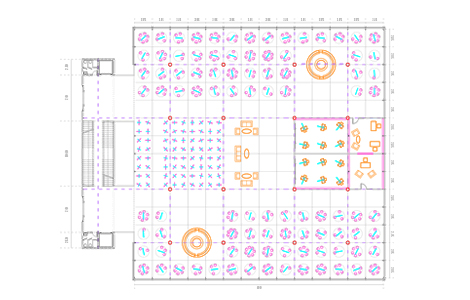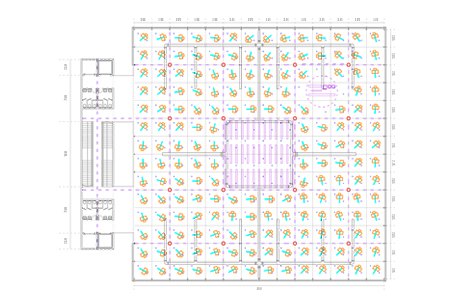 Space elements:
A core as an addition to the building, with storages and communications.
Columns and circular storages around them, for models and materials;
Wall panels moving in 4 directions, rotating and folding, and could be lifted to the ceiling;
The position of the tables is determined by the position of the wall panel so that all four legs of the table are placed in the holes in the floor and then the table plate is hung on them;
Chairs are folded up and placed as tables;
The storages for tables and chairs are located in the building core, and they are made of light materials in order to be easily portable.
Neon tubes (lamps) are connected to the wall panel and they have a permanent position in the space.
Elementi prostora:
Jezgro kao dodatak objektu, sa ostavama i komunikacijama.
Stubovi i kružne ostave oko njih, za makete i materijal;
Zidna platna koja se kreću u 4 pravca, rotiraju i sklapaju, pa zatim podižu na plafon;
Položaj stolova je određen položajem zidnih platna pa se tako sve četiri noge stola postavljaju u rupe u podu i na njih se zatim kači ploča stola;
Stolice se sklapaju i postavljaju kao stolovi;
Ostave za ploče i noge stolova i stolice se nalaze u jezgru, a rađene su od lakih materijala kako bi bili lako prenosivi.
Neonske cevi (lampe) su upravne na zidno platno i jedine imaju stalan položaj u prostoru.