Modul M5 Studio Arhitektura, 18 ESPB
naziv zadatka: ARHITEKTURA ZA POJESTI
docent Djordje Stojanović, asistent Milutin Cerović, saradnik Milan Katić
Master akademske studije – Arhitektonski fakultet Univerziteta u Beogradu
Prostorni okvir zadatka čini lokacija https://maps.google.com/ uz Volginu ulicu, blizu najviše topografske tačke na reljefu grada Beograda. Predviđena parcela je okružena Zvezdarskom šumom i trenutno pripada zapuštenom i nefunkcionalnom Sportskom centru koji je bespravno nastao tokom devedesetih godina, na mestu poznate beogradske kafane i javne zelene površine. Programski okvir zadatka podrazumeva analizu mogućih namena lokacije i pronalaženje adekvatnog odnosa među njima. Očekivani rezultati treba da ponude hibridna rešenja koja osciliraju između stanovanja, ugostiteljstva, komercijalnih sadržaja i rekreacije. (foto sa lokacije http://www.flickr.com/)
Tematski okvir zadatka je vezan za pitanje hrane, odnosno procesa koji obuhvata proizvodnju, distribuciju i konzumaciju prehrambenih proizvoda u današnjim gradovima. U ovom semestru studio nastoji da razotkrije skrivene tokove i obrasce koji povezuju hranu sa arhitektonskom formom, njenom prostornom organizacijom i kontekstom. Rad na arhitektonskom projektu počinjemo analizom lanca koji povezuje produkciju i konzumaciju hrane, a zatim pokušavamo da sagledamo prostorne efekte koje prouzrokuje savremena ishrana. Razmatraćemo prostorne posledice koje se danas javljaju usled diferencijacije između ruralnih sredina u kojima se hrana proizvodi i urbanih sredina u kojima se hrana konzumira, a zatim pokušati da uspostavimo prostornu tipologiju koja sadrži objedinjene karakteristike ova dva polariteta. Kroz izradu arhitektonskog projekta, istražujemo kakvu ulogu može imati arhitektura u produkciji i potrošnji hrane.
Pored individualnog rada na zadatku, tokom semestra predviđena je i zajednička izrada jednog prototipskog modela u punoj veličini, u vidu objekta paviljonskog tipa u prirodnom okruženju.* Osnovni cilj ovakve vežbe odnosi se na razvoj razumevanja karakteristika građevinskih materijala i tehnika gradnje kroz neposredan rad.
*Ovaj vid nastave se zasniva na već obavljenim pripremama i težnji za približavanjem između edukacije i građevinske industrije. Uz višemesečne pripreme ostvaren je okvir za saradnju između obrazovnih institucija i privrede, koji studentima obezbeđuje profesionalnu podršku, neophodna finansijska sredstva i lokaciju za realizaciju ovakvog projekta. Prethodno realizovani prototipski modeli u okviru nastave na AF http://blog.4ofseven.com/tag/design-workshops/.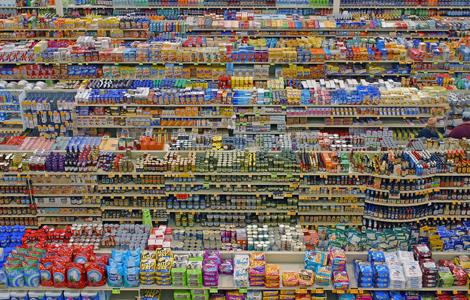 Andreas Gursky, Diptych 99 cent store II, 2001. C Print. © Andreas Gursky
References:
Franck, K. A. 2005. Food for the City, Food in the City. AD 75. pp. 35–42.
Steel, C. 2009. Hungry City: How Food Shapes Our Lives. Vintage, London.
P. de Rooden , A. Grubb, H. Wiskerke, and  Sheppard L. 2012.  Food for the City: A Future for the Metropolis. NaI Publishers, Rotterdam.
Pollan, M. 2013. Cooked: A Natural History of Transformation. Penguin, NY.
Roach, M. 2013. Gulp: Adventures on the Alimentary Canal. W.W. Norton and Company, NY.
N. Myhrvold, C. Young, and Bilet, M. 2011. Modernist Cuisine: The Art and Science of Cooking. Cooking Lab, WA.
Miralles, E. and Prats, E. 1990. How to lay out a croissant, Horizontal equilibrium. El Croquis 72 1995. pp 240-41.
The Social Use of the Kitchen. Ottagono 48/1978.

http://socks-studio.com/2012/06/14/the-social-use-of-the-kitchen-from-ottagono-481978/
Film:
The Foods that Make Billions,(Liquid Gold, The Age of Plenty, Pots of Gold), BBC2 Documentary 2010. http://www.bbc.co.uk/programmes/b00wdf5t
Eat Drink Man Woman, Ang Lee 1994.
The Cook, the Thief, His Wife and Her Lover, Peter Greenaway 1989.
Big night, Campbell Scott and Stanley Tucci 1996.
Perfect Sense, David Mackenzie 2011.
Students:
Aleksandra Banjac, Ana Toljic, Sonja Rajic, Jelena Tasic, Milica Milosevic, Aleksandra Kresoja, Zorana Zlatojevic, Kristina Vukovic, Milica Vostic, Djurdjica Savkovic, Aleksandra Lekic, Monika Jelic, Jelena Mirkovic, Tijana Pajovic, Emilija Sajic, Snezana Jevremovic