"In the context of pollution, carbon emissions, and climate change, the air is an essential public good. Yet air is invisible. It is boundless. It is difficult to control, to own, to divide, and to observe. It belongs equally to everyone in the city, no less shared than traditional fixed public spaces of parks and streets. Air is public space, but it must be claimed and activated." // (The Living) David Benjamin & Soo-in Yang, 2010
POLYARK 5 | POLYAIR
As a part of the Polyark 5: Polyair initiative by Royal Institute of British Architects, University of Belgrade – Faculty of Architecture is organizing a design studio, during Summer Semester 2017/18.
We wish to investigate the potentials of architectural infrastructure for activating the lowest layer of Earth's atmosphere, and for claiming air as public good and public space. Design proposals may refer to fixed installations – on facades, rooftops or wide open spaces – for landing of drones or helicopters; infrastructure for recreational activities in the air (kiteboarding, paragliding, parachuting, balooning); or flying/moving structures for inhabiting the troposphere.
The students will simultaneously develop individual design projects while researching selected literature and relevant architectural and artistic practices in order to establish a correlation between architectural strategies, artistic tendencies and technological innovations, and consequently, inspire and support their own design proposals.
The studio is conceived as an art & design research project, and will take place once a week, via 2-hour tête-à-tête student-teacher meetings. It is open for all academic levels – Bachelor, Masters or PhD, while the number of students is limited to 10.
Organization and realization of the studio: Branko Pavić, Djordje Stojanovic, Anđela Karabašević and guests.
———————————————
U okviru inicijative Polyark 5: Polyair, Kraljevskog instituta britanskih arhitekta RIBA, Arhitektonski fakultet organizuje vannastavnu projektantsku radionicu tokom letnjeg semestra školske godine 2017/18.
Radionica je osmišljena u vidu istraživačko-umetničkog projekta, i odvijaće se prema terminskom planu u trajanju od 15 nedelja. Tête-à-tête susreti nastavnika i studenata predviđeni su svake nedelje u trajanju od 2h.
Studenti će kroz istraživački, umetnički i projektantski rad ispitivati potencijal arhitektonske infrastrukture za aktiviranje najnižeg sloja atmosfere, za osvajanje i korišćenje vazduha kao javnog dobra i javnog prostora. Projekti se mogu odnositi na fiksne instalacije – na fasadama, krovovima postojećih objekata, ili na čistim otvorenim prostorima – za sletanje dronova, helikoptera, sportove u vazduhu (kajtbording, paraglajding, padobranstvo, vožnja balonom), ili na leteće/pomerljive strukture za naseljavanje i osvajanje troposfere.
Planirani tok rada sastoji se iz dve povezane celine, istraživačkog rada, odnosno upoznavanja sa relevantnim teorijskim polazištima, analize primera i uspostavljanja odnosa između arhitektonskih strategija, tendencija umetnosti i tehnoloških inovacija; i projektantskog dela odnosno izrade arhitektonsko-urbanističkog koncepta.
Prezentacija tematskog okvira i samog kurikuluma, (metodologije rada, ciljeva i očekivanih rezultata) se održava u četvrtak 22. februara, u 17h, u sali 254, nakon čega se zainteresovani studenti mogu prijaviti za učešće. Radionica je otvorena za studente svih nivoa studija, doktorskih, master i osnovnih. Broj studenata je ograničen na 10.
Organizacija i realizacija radionice: Branko Pavić, Đorđe Stojanović, Anđela Karabašević i gosti.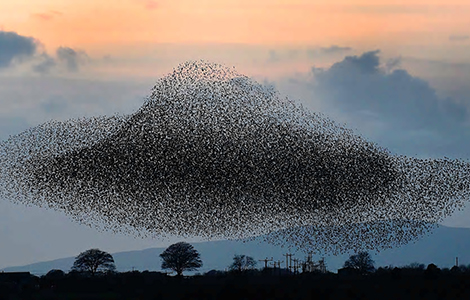 Slika: Okupljanje ptica iznad škotsko-engleske granice. Foto: Owen Humphreys, Press Association 2014.