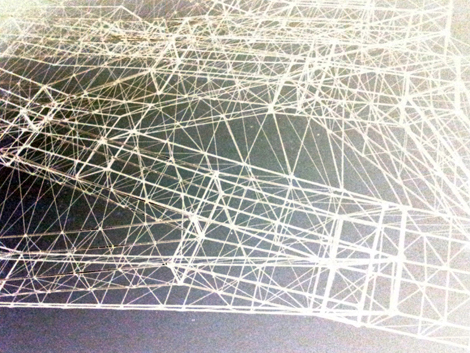 Main idea of my project is polyvalence – meaning multiple and different forms, purposes and meanings. That is also the characteristic of network as a term: it can change its shape, ways of manifestation, users, infrastructure, carry various messages, have different capacity, density and speed, but it is united into one system. As connections and flows are not fixed in space, architecture of connections and flows should be changeable and inconstant. Reducing the main idea of architecture to the network of communications simplifies the architecture, but it firmly points out the idea of network and exchange of information.
Walls and membranes call on closing and strict control of boundaries, while pipes and wires permit smooth flow enabling creation of space and program gradient. Surface has no order. By separating surface into strips, boundaries are created. They can be overcome by hiring other surfaces and strips which overlap and create complex spaces. Goal is breaking the dichotomy outside – inside by creating interspaces and new terrain.
Institute for new media creates new reality at Savski kej. Integrating of  different typologies (school, research center and park) creates hybrid typology which forms new landscape, brings new patterns of space usage, contributes to quality of work in institute.
Ključna ideja mog projekta jeste polivalentnost – višestruka značenja, svrhe i forme. To je i karakteristika mreže kao pojma: ona može menjati svoj oblik, načine ispoljavanja, korisnike, infrastrukturu, nositi različite poruke, biti različitih kapaciteta, gustina i brzina, ali je sjedinjena u jedinstven sistem. Kako veze i tokovi mreža nisu fiksni u prostoru, tako i arhitektura veza i tokova treba da bude promenljiva i nestalna. Svođenje osnovne ideje arhitekture na mrežu komunikacija pojednostavljuje samu arhitekturu, ali snažno ističe ideju mreže i razmene informacija.
Zidovi i opne pozivaju na zatvaranje i strogu kontrolu granice, dok cevi i žice dozvoljavaju nesmetan protok omogućujući utapanje prostora i stvarajući gradijent programa. Površina je bez reda. Razdvajajući površinu u trake stvaraju se granice koje se mogu savladati angažovanjem drugih površina i traka koje se prepliću i time stvaraju kompleksne prostore. Cilj je razbijanje dihotomije spolja – unutra stvaranjem međuprostora i novog terena.
Institut za nove medije stvara novu realnost na prostoru Savskog keja. Integrisanjem tipologija škole, istraživačkog centra i parka nastaje hibridna tipologija koja formira novi pejzaž, donosi nove obrasce korišćenja prostora, doprinosi poboljšanju kvaliteta rada u institutu.