Modul MASA23030 Izborni predemt, 2 ESPB
naziv: Istrazivanje kroz projekat
docent Djordje Stojanović, saradnik Milica Vujović
Master akademske studije – Arhitektonski fakultet Univerziteta u Beogradu
Jedan od osnovnih ciljeva ovog izbornog predmeta je da pomogne studentima u razumevanju pojma prostorne adaptivnosti i drugih karakteristika složenih prostornih organizacija, struktura i okruženja. Studenti će biti upoznati sa konceptom "Integrisanih tehničkih sistema", polja delovanja koje povezuje niz disciplina i istraživačkih oblasti kao što su mehatronika, robotika, automatsko upravljanje i digitalna fabrikacija, i vidovima primene ovakvih sistema u savremenoj arhitektonskoj praksi i istraživačkom radu. Predmet je koncipiran kao dvodelna celina. U prvom delu semestra  analiziramo niz primera arhitektonskih projekata i istraživanja sa jasnom izraženom ulogom Integrisanih tehničkih sistema. U drugom delu semestra, stečeno znanja primenjujemo u izradi arhitektonskog rešenja za uređenje segmenta javnog prostora grada. Studenti će imati zadatak da putem primene Integrisanih tehničkih sistema, koncipiraju arhitektonsko rešenje koje se zasniva na prikupljanju merljivih informacija iz okruženja (npr. temperatura, vlažnost vazduha, atmosfersko zagađenje, količina padavina, intenzitet pešačkih i kolskih tokova) i njihovoj neposrednoj manifestaciji tj. prevođenju u izgrađeno okruženju (npr. fasada objekta, rasveta, mobilijar, popločanje) radi ostvarivanja arhitektonskog cilja.
References:
Moloney, J. 2011. State change. Designing Kinetics for Architectural Facades. Routledge. London and New York.
Stojanovic, Dj. The Architecture of Ill-tempered Environment: A Behavioral Model. In: M. R. Thomsen, M. Tamke, C. Gengnagel, B. Faircloth, F. Scheurer, eds. Modeling Behaviour. Proceedings of the Design Modeling Symposium. Centre for Information Technology and Architecture Copenhagen, Denmark. 30 September – 2 October 2015. Springer.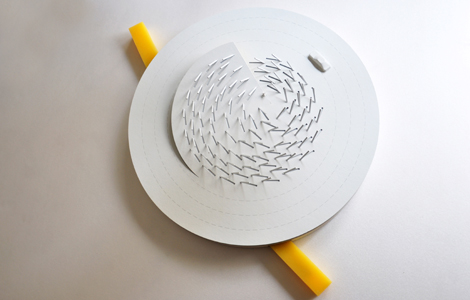 Projekat za arhitektonsko-urbanističko uređenje okruženja Trga Slavija u Beogradu, 4od7 Arhitektura (Stojanovic Djordje, Cerovic Milutin, Karabesevic Andjela, Tasic Milica, Obradovic Bogdan)