Modul M01 Studio Arhitektura, 15 ESPB
naziv zadatka: Škola arhitekture
docent Djordje Stojanovic, asistent Nemanja Kordić
učesnici u nastavi: Anđela Karabašević, Shin Yokoo
Master akademske studije – Arhitektonski fakultet Univerziteta u Beogradu
Studenti će imati zadatak da osmisle arhitektonsko rešenje nove arhitektonske škole. Složenost zadatka se ogleda u potrebi za preispitivanjem principa savremenog arhitektonskog obrazovanja i programa kao i njihovoj adekvatnosti u odnosu na trenutne i buduće potrebe društva. Takođe neophodno je preispitati odnos fakulteta kao institucije koja se bavi gradom i prostorom i neposrednog konteksta u kojem nastaje. Predložena lokacija se nalazi u Beogradu, između Bulevara Despota Stefana, Pančevačkog mosta, puta M-1.9 i pruge duž Poenkareove ulice.
Rad na projektu pokrenućemo sledećim pitanjima: Da li objekat edukativne namene može da se prilagođava svojim korisnicima, njihovim potrebama i željama? Kako može da omogući aktivno učešće korisnika u formiranju prostora? Da li i na koji način objekat arhitektonskog fakulteta može da postane akter u procesu transformacije gradskog tkiva pretežno industrijskog karaktera?
U ovom semestru, Shin Yokoo gostujući predavač sa Univerziteta u Tokiju i osnivač projektantske prakse Ouvi (www.ouvi.nu) će pomagati studentima da razviju razumevanje odnosa između konstruktivnih i arhitektonskih aspekata projekta.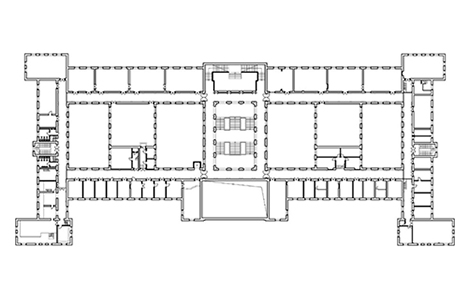 Osnova drugog sprata – Univerzitet u Beogradu, Arhitektonski Fakultet 1936.
 
Within the multiyear framework of "Learning Spaces", this semester we will be designing environment for the needs of architectural education. We will speculate on the future of architectural teaching and learning based on the changing needs of our society.
User and context
The study will unfold in two interconnected areas. We will probe into the relationship between the building and its users by exploring ways and means of spatial adaptability. At the same time, we will consider if the introduction of an architectural school may influence its surroundings and work as a catalyst in the transformation of the entire neighborhood, located in the former industrial area of Belgrade.
Structure and architecture
In this semester, Shin Yokoo, a guest lecturer and the founder of Ouvi design practice in Tokyo, (www.ouvi.nu), will help students develop an understanding of the relationship between the constructive and architectural aspects of the project.