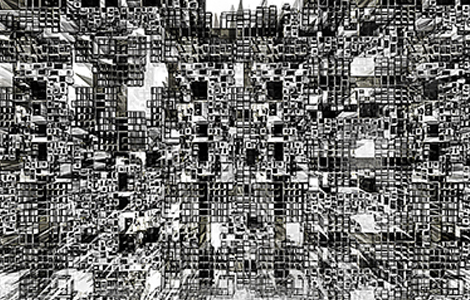 By dividing the typology of residential tower into several different sub typologies the new vertical structure is being created where user is able to choose a space adequate for his own needs throughout the unit of time. This way, user achieves aspirations for social space, and establishes the platform for homo ludens.
Vertikalni Sociopolis[i]. Projektovanje nove socijalne prostornosti[ii]
Podelom stambene kule na više različitih podtipologija stanovanja stvara se vertikalna struktura u kojoj je korisniku omogućen odabir prostora po sopstvenim potrebama kroz jedinicu vremena ostvarajući time težnju za socijalnim prostorom  i uspostavljanje platforme za čoveka koji se igra[iii].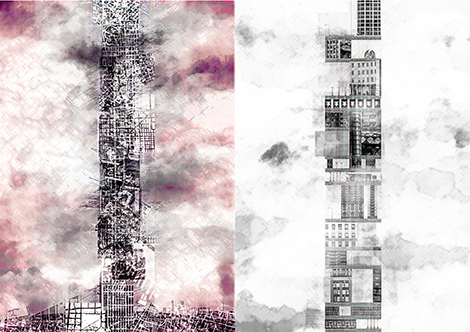 Kao osnovni problem tipologije stambene kule, uočava se predominantna zastupljenost stanovanja realizovanog u vidu ponavljanja identičnih tipova prostora kroz celu strukturu rezultujući stvaranjem homogene strukture čitljivom i spolja i unutra. Konkretno na primeru stambenih kula u naselju Rudo, predominantna zastupljenost stanovanja, ogleda se kroz odsustvo zajedničkih prostora kao mesta interakcije i susreta, uslovljavajući individualizaciju kroz izolaciju i stanovanje isključivo u okviru sopstvene jedinice – ćelije, dovodeći do "еgzistencijalne izopštenosti" [iv]. Adekvatna prenamena prostora otežana je kosntruktivnim sistemom kule koji čini masivni konstruktivni sklop sa konstruktivnim zidovima na razmaku od 410 cm, i samim tim onemogućena je fleksibilnost stanara kroz vreme.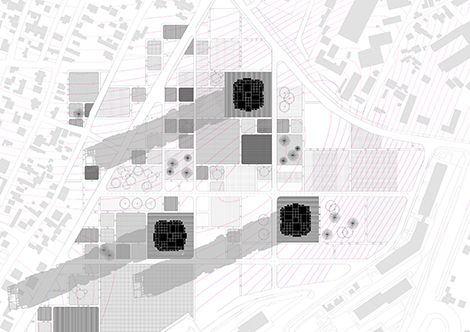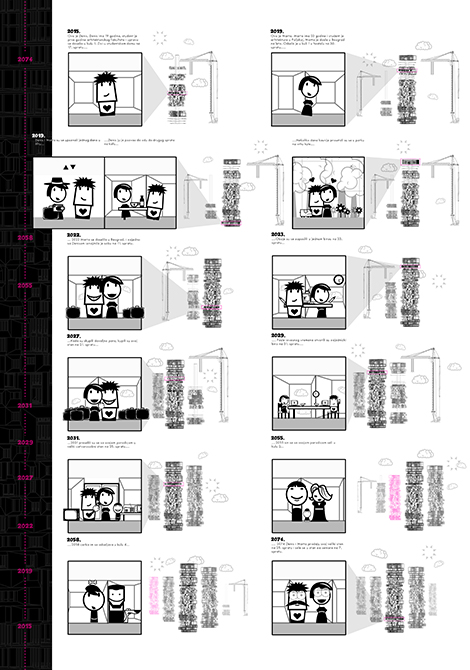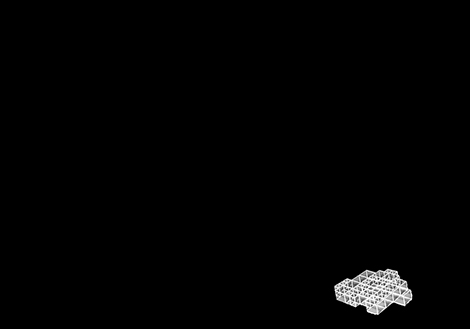 Centralna ideja za projektovanje novih kula je fragmentacija tipologije kule na više podtipologija u vidu sektora gde svaki sektor ima svoj socijalni prostor oko kog se formira. U kuli više ne dominira jedan tip stanovanja koji je do sad bio isključivo višeporodično stanovanje, sa naglašenim koridorom iz kog se ulazi u stanove, već se javlja više različitih vidova stanovanja uz višeporodično kao što su studentsko, stanovanje za seniore, kooperativno (socijalno), privatno i privremeno, sa dodatnim funkcijama u vidu dečijeg boravka, restorana, komercijalnih sadržaja i poslovanja. Svaka od tipologija ima svoju specifičnu konfiguraciju u rasteru gde se smenjuju polja od 3.3 x 3.3, 6.6 x 6.6 i 9.9 x 9.9, gde prvo polje (3.3×3.3) odgovara formiranju smeštajnih jedinica, drugo polje (6.6 x 6.6) odgovara servisnim funkcijama kao što su kuhinje, zajednički toaleti, vešernice i sl. i treće polje (9.9 x 9.9) odgovara prostorima za dodatne aktivnosti koje su karakteristične za svaku tipologiju ponaosob. Tako je na primer kod stanovanja za seniore u polju 9.9 x 9.9 planirana velika zimska bašta za sadnice, kod dečijeg boravka, formira se sala za igru, kod privremenog smeštaja veliki lobi, kod studentskog stanovanja čitaonica itd.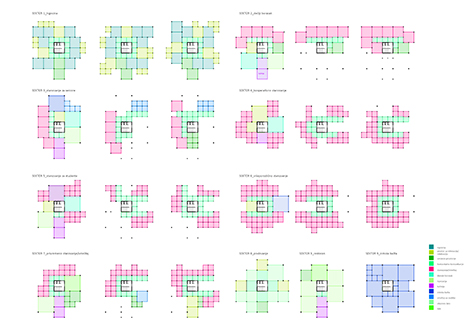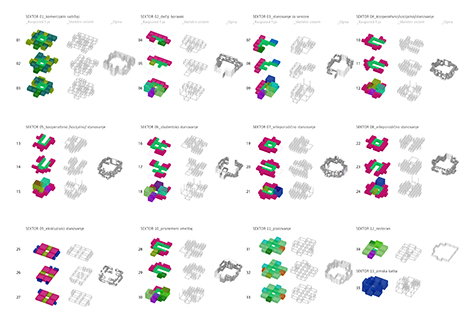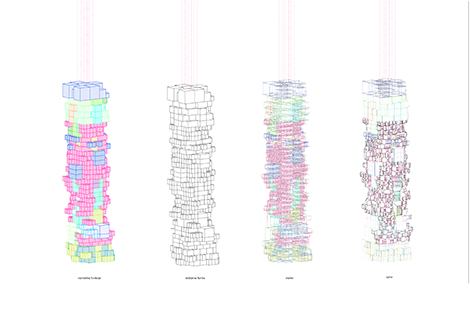 Formiranjem različitih tipova smeštaja i stanovanja dobijamo raznolikost u kvalitetu stanovanja koje može odgovoriti na različite socijalne i ekonomske potrebe korisnika kroz vreme, odnosno onako kako se on razvija u društvu, a da pritom korisnik ostaje na istoj geografskoj poziciji i na jednakom udaljenju od važnih tačaka u gradu dobijajući istovremeno i kvalitet života u centru i kvalitet života na periferiji.