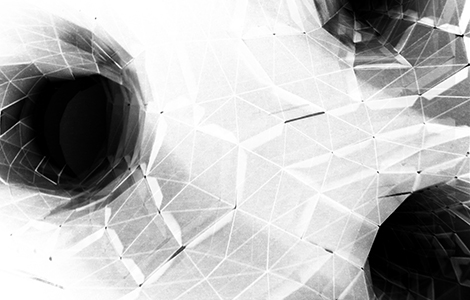 Djeram market is transformed into a place where preparation, consumption and distribution of food are integrated, it becomes attractor for residents, who by being exposed to activities atypical for market go through the process of education and change the perception of food.
Through physical division of space, a spatial combinatory is performed in order to establish possible logic of movement, directly related to the act of education. Therefore functionally divided space becomes unique system of collecting food sensations with a multitude of possible flows.
Spatial setting is affirmed through three mutually pervaded levels of a market functionally, as well as phisically. Main spatial element in both vertical and horizontal plane is a canopy with role of establishing visual and physical link among users and activities. By placing a network of vortexes, constitutive elements outstreched through four levels, and binding into canopy, a multifunctional market is converted into a singular space and read as a coherent system. The market is no longer only a place of merchandise, but it also offers additional space sensation through education and food consumption. Since food is defined as an activity attractor, it is reafirmed as an important part of shaping life in the city.
Atraktorna uloga hrane u prostoru
Rast potrebe za dostupnom i kvalitetnom hranom u gradu zahteva povećanje proizvodnje i težnju za poboljšanom i bržom pripremom. Samim tim ostvarivanje nove konekcije procesa, koja bi rešila postavljene probleme, postaje važna problematika grada. Imajući u vidu da je osnovni uzrok neadekvatnog odnosa prema hrani analiza procesa kojim su proizvodnja i deo pripreme izmešteni van grada, a u centru prisutni gotovi proizvodi spremni za konzumaciju, sinteza procesa mogla bi da se iskoristi kao metod promene odnosa prema hrani i rešenje problema kvaliteta i kvantiteta hrane u gradu. Pijaca je tradicionalno bitna spona hrane i korisnika, a time i idealan poligon prostorne implementacije metode unutar gradskog jezgra.
Đeram pijaca trasformiše se u mesto integracije pripreme, konzumacije i distribucije hrane, postaje atraktorna tačka korisnika u prostoru, koji izloženi aktivnostima atipičnim za pijacu prolaze kroz proces edukacije i menjaju percepciju hrane.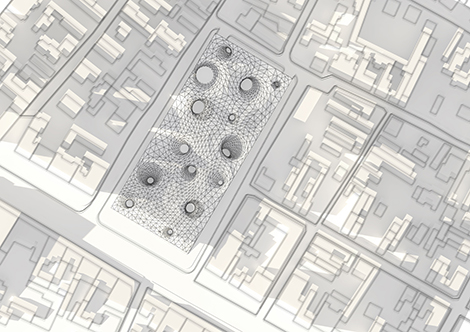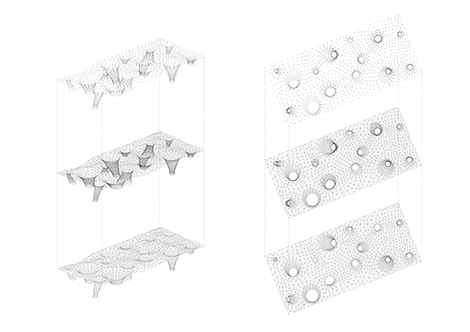 Fizičkom segmentacijom procesa vršila bi se prostorna kombinatorika radi uspostavljanja mogućih logika kretanja, direktno vezanih za edukativni čin. Samim tim funkcionalno podeljen prostor postaje jedinstven sistem prikupljanja iskustva o hrani uz mnoštvo mogućih tokova.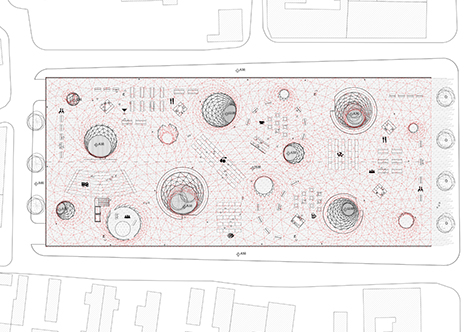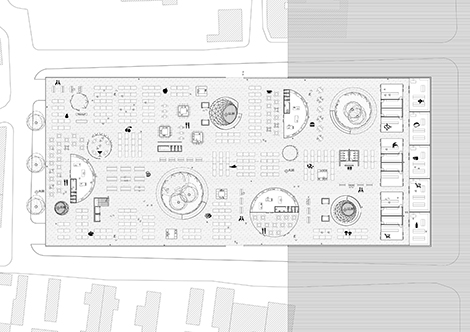 Prostorno rešenje obrazuje se kroz postavku tri međusobno prožeta nivoa pijace, kako funkcionalnim, tako i fizičkim putem. Najniži, prizemni nivo predstavlja sedište FAO organizacije, zonu dopremanja hrane i prvu pristupnu tačku korisnika pijaci, odakle se njihov tok nastavlja vertikalnim putem. Zona ključnog kombinovanja aktivnosti, na prvom spratu i iznad u parteru, karakteriše se sistemom kuhinja uklopljenih u prostor pijace i trga, čime prostor pruža mogućnost istovremenog opažanja mnoštva tokova hrane. Ova zona formira dominantno otvoren javni prostor uspostavljajući konekciju sa kontekstom i sagledavanje iz okruženja. Osnovni prostori element u vertikalnom i horizontalnom planu je nadstešnica sa ulogom uspostavljanja vizuelne i fizičke spone između korisnika i aktivnosti. Postavljanjem mreže vorteksa, gradivnih elemenata pruženih kroz dve etaže i vezivanjem u strehu, multifunkcionalna pijaca bi se svela pod jedinstveno okrilje i čitala kao koherentan sistem.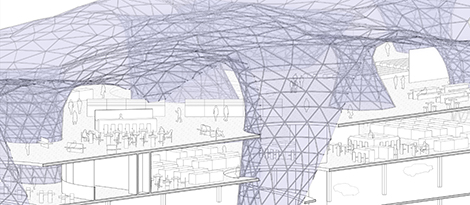 Krajnji rezultat pristupa je  aktivan prostor interakcije korisnika i hrane kroz festivalsku atmosferu putem pripreme i promocije, edukacije i trgovine hranom. Primena kombinovanja procesa na prostoru Đeram pijace obrazuje novu tačku susreta na mapi grada. Pijaca više nije samo prostor trgovine, već korisnicima nudi iskustvo više kroz edukaciju i konzumaciju hrane, a kako je hrana određena kao atraktor aktivnosti, ponovo se afirmiše kao važan činilac oblikovanja života u gradu.