Kontekst "kraja grada" tumačimo kroz koncept platforme kao ujedinjujućeg elementa svakog stambenog bloka. Platforma usmerava svakodnevni život u bloku, generišući zajedničke aktivnosti stanara u otvorenim prostorima između zgrada. Uvodjenjem novog tipa prostora odignutog od nivoa prizemlja, uspostavlja se postepeni prelaz sa javne gradske ulice do intimnih prostora pojedinačnih stanova.
Specific context at the edge of the city is interpreted by introducing platforms as unifying elements of every housing block. The platform directs everyday life within the block, generating common activities in the in-between open spaces. The introduction of new type of space, elevated from the ground level, gradually forms a transition from public city street to intimate spaces of the apartments.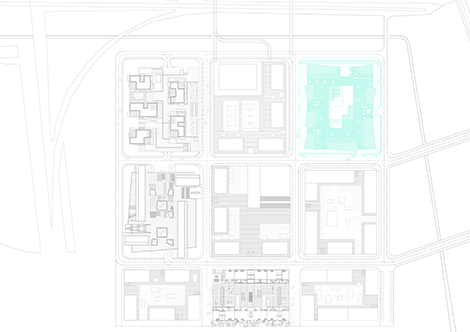 Objekti izranjaju zasecanjem i podizanjem ravni platforme, koja se dalje širi, postaje fasada, i povezuje stambene zgrade u jednu celinu.
Buildings emerge from the platform by cutting and lifting the platform plane, which then expands into the facades, and connects the buildings into one unique neighbourhood.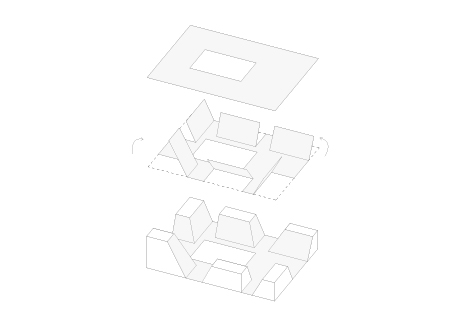 Formiraju se prostori iznad i ispod platforme, polujavnog i privatnog karaktera, koji su povezani velikim tribinama u unutrašnjem dvorištu. Glavni karakter bloka koji pruža platforma, je osećaj zajednice i bliskosti. Površina platforme i kose fasade objekata ka njoj u unutrašnjosti bloka čine jedninstvenu drvenu površinu, dok su fasade ka ulici i komercijalna prizemlja objekata ispod platforme su u staklu.
Semi-public and private spaces are created above and beneath the platform, and are connected via the big seating area in the inner courtyard of the block. The key character of the block, established by the platform, is the feeling of closeness and community. The platform plane and inner sloped facades are treated as one unique wooden surface, whereas the street facades and ground floor commercial spaces are covered in glass.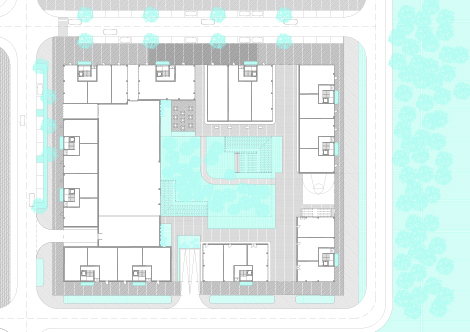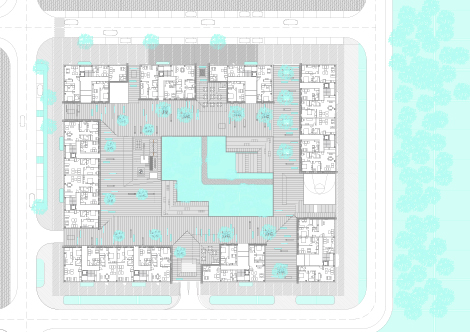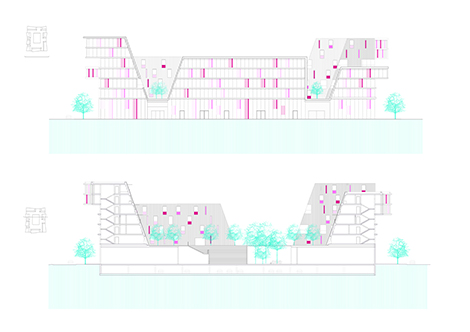 Oblik i veličina stanova definisani su oblikom zgrade, a prvenstveno kosim fasadnim ravnima. Sa svakim spratom, stanovi se sužavaju, tako da se svi stanovi u okviru zgrade razlikuju.
Shape and size of the apartments are determined by the shape of the building, mostly by sloped facades. The apartments get smaller with each floor, so every apartment in the building is unique.