LIBRARY
Module: Design Studio M4 2011/12, 18 ECTS
Djordje Stojanović, Milutin Cerović, Milica Tasić
Graduate Programme,
This semester we will be designing a new library for the University of Arts in Belgrade. The challenge will be to perceive the ongoing change of contemporary institutions and develop understanding of the design methodology beyond subordination to typological classification in architecture. Historically, the purpose of libraries is to collect, archive and disseminate information but with the advance of digital media, such role has shifted toward the specific provision of access to knowledge via physical space that is shared by many users. Curatorship of the library's content is what makes it unique. Relationship between the user and the book is central to the design strategy. New libraries in Musashino and Dalarna both have spiral configurations of archives with communal spaces positioned interstitially to them. Seattle library, on the other hand, has loosely arranged public zones attached to programatically defined volumes. Public space in libraries has double purpose. Firstly it needs to facilities interaction and communication between its users and secondly it needs to provide for private and quiet working areas.  Perception and way finding are based on the narrative structure of space. According to the design intent this may be sequential aggregate of rooms or seamless structure as in Jussieu library, where floor slabs are connected into the landscape-like formation to foster one continuous circulation route throughout the building. We will start with the analysis of similar projects and discussions about relevant conceptions. From there we will use this comprehension to formulate specific design strategies for the University of Arts Library with the contextual reference to location at Kosancicev venac in Belgrade.
Students: Radovic Ivana, Mercep Katarina, Pop-Mitic Marija, Danka Sijerkovic, Andric  Aleksandar, Pucarevic Jovan, Kolacek Dea, Simic Miloš, Zlatkovic Emilija, Katic Milan, Tasic Dušan, Elakovic Sonja, Todosijevic Ana, Vukajlovic Marko, Cvjetičanin Nebojša
U ovom semestru bavićemo se projektovanjem biblioteke Univerziteta umetnosti u Beogradu.  Izazov leži u razumevanju promena na koje nailaze savremene institucije i razvijanju istraživačkih i projektantskih sposobnosti koje prevazilaze primenu tipoloških klasifikacija u arhitekturi. Kao i ranije, biblioteke i danas imaju ulogu u prikupljanju, čuvanju i širenju informacija, međutim uz razvoj elektronskih medija njihova svrha se bitno menja i sada prvenstveno podrazumeva pristup znanju u fizičkom i zajedničkom prostoru. Način predstavljanja arhive jedne biblioteke ima presudan značaj za njenu vitalnost. Odnos između korisnika i knjige postaje centralno pitanje u koncepciji ovakvih prostora. Nove biblioteke u Musashinu i Dalarni imaju spiralne konfiguracije arhivskih polica između kojih se nalazi zajednički prostor. Biblioteka u Sjetlu, pored programski definisanih prostorija sadrži višenamenske i fleksibilno organizovane zone namenjene za socijalizaciju. Karakter takvih prostorija istovremeno treba da omogući dva scenarija. Prvi je susret i komunikacija među korisnicima, a drugi je izdvajanje u mirnije prostorne podceline za individualni rad. Percepcija i orijentacija se temelje na narativnoj strukturi prostora, koja je odraz određene arhitektonske strategije i može činiti niz razdvojenih prostornih sekvenci ili jednu celovitu strukturu  kao u slučaju biblioteke Jussieu u Parizu čije etaže su povezane tako da čine prostornu konfiguraciju koja je nalik na otvoreni pejzaž kroz koji se proteže kontinulana putanja kretanja. Rad na projektu ćemo početi sa analizom ovakvih primera i diskusijama o primenjenim projektantskim strategijama. Ovo znanje ćemo zatim upotrebiti za formulaciju sopstvenih ideja i ciljeva za programski okvir biblioteke Univerziteta umetnosti, i kontekstualni okvir lokacije na Kosančićevom vencu u Beogradu.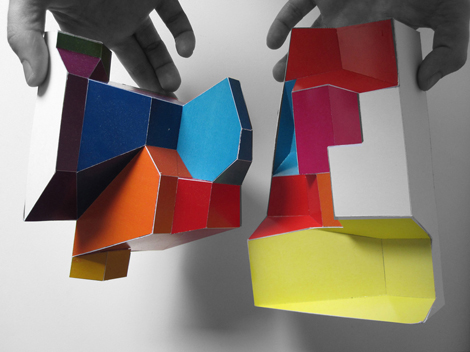 Anđela Karabašević 1011M4
1112M4 Reading List

Stan Allen, Diagrams Matter from ANY no 23, Anyone Corporation 1998
B. van Berkel and C. Bos, Interactive Instruments in Operation from ANY no 23, Anyone Corporation 1998
Robin Evans, In Front of Lines That Leave Nothing Behind, AA Files 6 1984
Stan Allen, From Object to Field from Practice: Architecture Technique + Representation, Routledge 2009
Sanford Kwinter, Soft Systems, from Culture Lab, ed. Brian Boigon, Princeton 1993
Mark Wigley, Network Fever, in Grey Room 4, MIT 2001
Peter B. Jones, Hans Scharoun, Phaidon 1995, pp196-218.(State Library, Berlin)
Wim Wenders, (film) Wings of Desire (Der Himmel über Berlin),1987 (State Library, Berlin)
Elcrouquis book, OMA Rem Koolhaas 1987-1998 (Jussieu – two libraries, Pariz)
Elcrouquis magazine 134/135, AMOMA Rem Koolhaas II 1996-2007 (Seattle Central Library,Sijetl)
Elcrouquis magazine 151, Sou Fujimoto 2003-2010 (Musashino Art University Museum and Library, Tokio)
Elcrouquis magazine 147, Toyo Ito 2005-2009 (Tama Art University Library, Tokio)
Elcrouquis magazine 118, CERO.9 (UIB Library, Palma de Mallorca)
S. Giedion, Henri Labrouste, u Prostor, Vreme, Arhitektura (Space, Time and Architecture), Građevinska knjiga 1969, pp161-165. (Bibliotheque Nationale, Pariz)