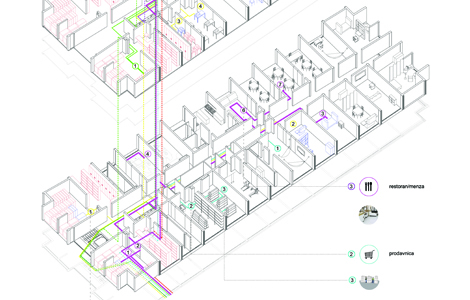 Stewart Brand says: ,,function reforms form, perpetually".[3] It means, that process in which we shape our buildings, and then our buildings shape us doesn't have to be a linear process, but a cyclic process. With this idea in mind, my strategy consists of creating a catalogue of furniture intended to support various activities and purposes such as housing, office space, workshops, shops, library, cinema, recreation. This furniture is portable and transformable. Flexibility is achieved within existing structure, but also, possibility for users to choose their lifestyle, relative to their needs and possibilities. In this manner, our building becomes a living creature, that lives and changes whit its residents.
Reorganizacija funkcija u okviru postojeće strukture, kao pokretač promene. Adaptacija visokih stambenih zgrada Rudo u naselju Konjarnik u Beogradu
Projekat se bavi adaptacijom kula Istočne kapije Beograda. Moja ideja je da zadržim postojeću strukturu i predvidim funkcije koje bi u tom prostoru mogle da se odvijaju. Na osnovu tih funkcija treba osmisliti prateću opremu i nameštaj. Nameštaj treba da bude dizajniran tako da bude lako prenosiv od skladišta do jedinica u kojima se koristi.


Na osnovu analize ,,Izgradnja tri 28-spratna solitera u naselju Konjarnik u Beogradu" možemo zaključiti da je konstruktivni sistem nefleksibilan.[1] Postojeća organizacija prostora ne daje mogućnost za uvođenje novih funkcija, ili rekonstrukciju postojećih i kao takva nudi ograničen broj tipologija, odnosno ograničen broj načina života mogućih u ovim objektima. Čovek i funkcije koje obavlja u datom prostoru, postaju podređeni projektantskim strategijama i odlukama koje su donesene u periodu nastajanja samog projekta, u drugačijem društvenom kontesktu koji se menja.[2]
Međutim, Stjuart Brend smatra da funkcija preoblikuje formu, neprestano ( ,,function reforms form, perpetually", Brand, 1995 )[3], što znači da proces u kome mi oblikujemo zgradu, a zatim zgrada oblikuje nas, ne mora biti linearan već cikličan proces koji ide u beskonačnost. Sa tom idejom na umu, moja projektantska strategija sastoji se od formiranja kataloga nameštaja koji je potreban za predviđene namene, kao što je stanovanje, kancelarijski prostor, radionice, prodavnice, zajednički dnevni boravak, biblioteka, sale za projekcije, rekreacija. Nameštaj je osmišljen tako da se može lako prenositi od skladišta do jedinica u kojima se koristi. Postiže se fleksibilnost u okviru postojeće strukture i mogućnost da korisnici biraju, u odnosu na svoje potrebe i mogućnosti, svoj način života. Na taj način, objekat živi sa svojim korisnicima i iznova menja svoju organizaciju u skladu sa konkretnim potrebama korisnika, u određenom vremenskom periodu, u datom društvenom kontekstu.



[1] ,,Visoki deo objekta predstavlja krutu konstrukciju s poprečnim i podužnim armirano-betonskim zidovima. Kako je u svom prizemnom gabaritu objekat znatno uži od svoje dužine konstruktor se odlučio na poprečna armirano-betonska platna na razmaku 4.10m."
Vrbić, Svetislav, dipl. inž. građ. ,,Izgradnja tri 28-spratna solitera u naselju Konjarnik u Beogradu", Izgradnja 12/72, 59-75
[2] ,,Nema sumnje da postoji veliki uticaj arhitekture i strukture na ljude i njihovo ponašanje. Mi oblikujemo naše zgrade, a zatim one oblikuju nas."
"There is no doubt whatever about the influence of architecture and structure upon human character and action. We make our buildings and afterwards they make us."
Churchill, Winston, na ceremoniji dodele nagrada Asocijacije Arhitekata, 1924.
[3] Brand, Stewart, ,,How Buildings Learn: What Happens After They are Built", Viking Press, 1994, p. 3.