Modul MASA23030 Izborni predemt, 2 ESPB
naziv: Istrazivanje kroz projekat
docent Djordje Stojanović, v. prof Marko Milos,
asistent Nemanja Kordic, saradnici Nikola Krajinovic, Milica Vujovic
Master akademske studije – Arhitektonski fakultet Univerziteta u Beogradu
Jedan od osnovnih ciljeva ovog izbornog predmeta je da pomogne studentima u razumevanju pojma prostorne adaptivnosti i drugih karakteristika složenih prostornih struktura i okruženja. Studenti će biti upoznati sa konceptom "Hibridnih tehničkih sistema", polja delovanja koje povezuje niz disciplina i istraživačkih oblasti kao što su mehatronika, automatsko upravljanje, robotika i digitalna fabrikacija, i vidovima primene ovakvih sistema u savremenoj arhitektonskoj praksi i istraživačkom radu.
Težište je postavljeno na ostvarivanju interdisciplinarne saradnje i povezivanju različitih obrazovnih polja kroz zajednički rad studenata Arhitektonskog i Mašinskog fakulteta. Tokom čitavog semestra, studenti će raditi u malim grupama baveći se aspektima zadatka iz svoje matične oblasti ali i razvijajući  sposobnost saradnje sa kolegama iz komplementarnih disciplina. Očekivani rezultat rada svakog tima koji će činiti studenti sa oba fakulteta, u saradnji sa asistentima i nastavnicima je produkcija prototipskog modela koji obuhvata arhitektonsko rešenje kao i potpuno funkcionalan integrisani tehnički sistem. Formalno, studenti Arhitektonskog i Mašinskog fakulteta pohađaju nezavisne nastavne jedinice i biće ocenjeni na osnovu kriterijuma koje definiše njihov matični studijski program.
Predmet je koncipiran kao dvodelna celina. U uvodnom delu semestra  analiziramo niz primera arhitektonskih projekata i istraživanja sa jasnom izraženom ulogom Hibridnih tehničkih sistema. U drugom delu semestra, stečeno znanje produbljujemo kroz izradu arhitektonskog rešenja za fasadu javnog objekta. Studenti će imati zadatak da putem primene Hibridnih tehničkih sistema, koncipiraju adaptivno arhitektonsko rešenje koje se zasniva na prikupljanju merljivih informacija iz okruženja (npr. temperatura, vlažnost vazduha, atmosfersko zagađenje, količina padavina, buka, intenzitet pešačkih i kolskih tokova) radi ostvarivanja određenog arhitektonskog cilja (npr. estetskih vrednosti, efikasnosti, konfora, upotrebe). Radeći u tročlanim ili četvoročlanim grupama, studenti će imati zadatak da proizvedu prototipski model arhitektonskog rešenja sa potpuno funkcionalnim integrisanim tehnički sistemom.
References:
Moloney, J. 2011. State change. Designing Kinetics for Architectural Facades. Routledge. London and New York.
Stojanovic, Dj. The Architecture of Ill-tempered Environment: A Behavioral Model. In: M. R. Thomsen, M. Tamke, C. Gengnagel, B. Faircloth, F. Scheurer, eds. Modeling Behaviour. Proceedings of the Design Modeling Symposium. Centre for Information Technology and Architecture Copenhagen, Denmark. 30 September – 2 October 2015. Springer.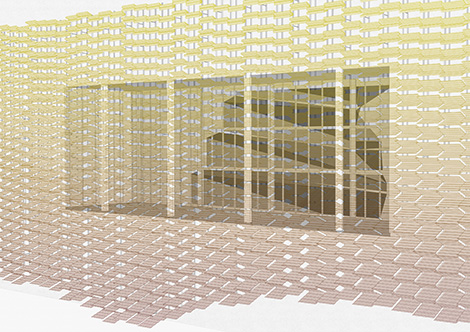 Master projekat "Space of Sound" student Olga Savic, mentor Djordje Stojanovic 2106.