Modul M01 Studio Arhitektura, 15 ESPB
APPETITE FOR CONSTRUCTION: Regional Headquarters for FAO of the UN
docent Djordje Stojanović, saradnik Jelena Pejković
Master akademske studije – Arhitektonski fakultet Univerziteta u Beogradu
The World Health Organization estimates that by 2050, 7 out of 10 people will live in cities. What will life be like in such densely populated places? Will basic resources, such as food, shelter and space, be available to all? The project of the Regional Headquarters for FAO should demonstrate in which way food could serve as the driving force for various activities in urban public spaces. Using architecture as the basic tool, and food as the lens through which to observe the quality of life in cities, students will develop a project for the Regional Headquarters of the FAO and the adjacent public space located near Đeram Market in Belgrade.
The goal is to develop project proposals which include administrative and educational functions as part of the FAO Headquarters, while placing the organization which focuses on issues of food availability on the global level into a lively and pulsating public space activated by trading, preparing and enjoying food.
Design work will begin with an analysis of patterns of food production and consumption, followed by an investigation of spatial effects of present-day eating habits and living patterns in urban areas. Through recognizing food as a basic resource but also a driver of social activity, we will explore architectural solutions which encourage interaction and exchange in contemporary cities.
Procenjuje se da će do 2050. godine 7 od 10 ljudi na svetu živeti u gradovima. Kako će izgledati život u tako gusto naseljenim sredinama? Da li će osnovni resursi, kao što su životni prostor i kvalitetna ishrana, biti svima dostupni? Projekat Regionalnog centra Organizacije za hranu Ujedinjenih nacija (FAO) treba da pokaže na koji način hrana može da posluži kao pokretač aktivnosti u javnom gradskom prostoru.
Rad na arhitektonskom projektu počinjemo analizom lanca koji povezuje produkciju i konzumaciju hrane, sagledavajući prostorne efekte koje prouzrokuju savremena ishrana i način života. Istraživaćemo arhitektonska rešenja koja u savremenom gradu podstiču susret i razmenu, razmatrajući hranu kao resurs ali i pokretač društvenog života.
Koristeći arhitekturu kao sredstvo, a hranu kao prizmu kroz koju se posmatra kvalitet života u gradovima, studenti će razviti projekat Regionalnog centra FAO i okolnog javnog prostora, na lokaciji pijace Đeram. Ovaj prostor, jasno definisan izgrađenim gradskim tkivom i Bulevarom kralja Aleksandra, ima ogroman potencijal da bude oplemenjen novim, hibridno koncipiranim javnim sadržajima koje inspirišu potreba za hranom i društvenom interakcijom. Cilj praktičnog rada je razvijanje rešenja koja sa jedne strane sadrže administrativne i edukativne namene u okviru Centra FAO, dok sa druge strane smeštaju organizaciju koja se na globalnom nivou bavi kvalitetom ishrane u živ i pulsirajući javni prostor koji pokreću nabavka, priprema i konzumiranje hrane.
Očekivani rezultati rada u studiju su: a. Idejno  arhitektonsko rešenje u razmeri 1:200, sa razvijenom prostornom organizacijom, materijalizacijom i konstruktivnim sistemom, koje sadrži jasan istraživački pristup; i b. Opis projekta u pisanoj formi na maksimalno jednoj A4 strani, koji sadrži jasnu hipotezu i sažetak istraživačkog rada.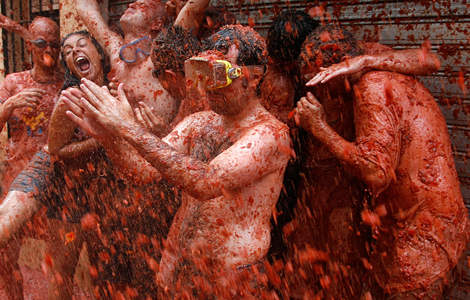 Last Wednesday of August – La Tomatina,  Buñol, Valencia, Spain