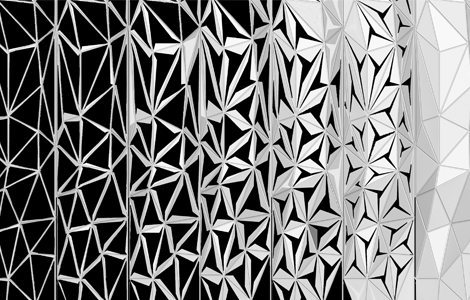 SUN-SENSITIVE CANOPY
The main idea was to design a sun sensitive canopy which responds to sun glare. If the glare is too intensive, the canopy closes down creating shade, otherwise, it opens up. Sunlight tracking happens in 8 phases:
//Phase 01_ night or extreme cloudiness (the canopy is entirely opened up)
//Phase 02_ severe cloudiness / sunrise or sunset
//Phase 03_ partial cloudiness / sunrise or sunset
//Phase 04_ bright day / sunrise or sunset
//Phase 05_ mostly cloudy day
//Phase 06_ mostly bright day
//Phase 07_  somewhat intensive sun glare
//Phase 08_ extremly intensive sun glare (the canopy is entirely closed down)
_ Nadstrešnica funkcioniše na osnovu dnevnog osvetljaja. Kao glavni cilj ima da stvori zasenu u trenucima kada je Sunce preintenzivno, odnosno da omogući dovoljnu količinu svetlosti ispod nadstrešnice kada osvetljaj nije dovoljan.
_Senzori se postavljaju na nadstrešnicu, kako bi merili spoljnu količinu osvetljaja, i ispod nadstrešnice kako bi proveravali dobijen osvetljaj
_ Input iz okruženja se meri senzorom, odakle se očitani podaci šalju do softvera koji ih pretvara u digitalni signal i dalje šalje do aktuatora koji dobijene podatke dalje pretvara u pokret.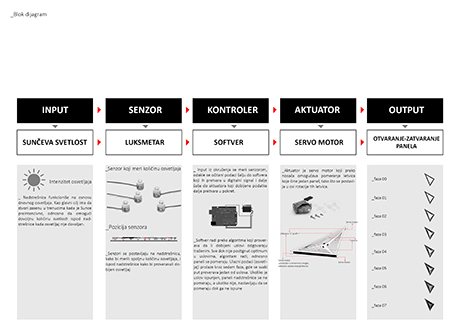 _Softver radi preko algoritma koji proverava da li dobijeni uslovi odgovaraju traženim. Sve dok nije postignut optimum u uslovima, algoritam radi, odnosno paneli se pomeraju. Ulazni podaci (osvetljaj) prolaze kroz sedam faza, gde se svaki put proverava jedan od uslova. Ukoliko je uslov ispunjen, paneli nadstrešnice se ne pomeraju, a ukoliko nije, nastavljaju da se pomeraju dok ga ne ispune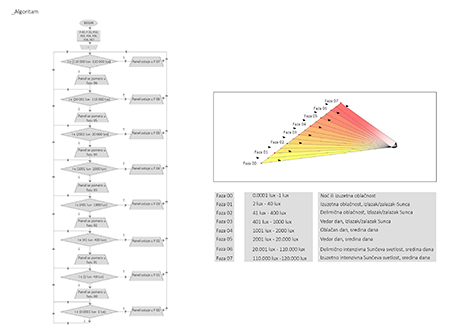 _Jedan trougaoni panel sastoji se od udvojenog 'U' profila i tri manja panela dobijenih simetralom glavnog trougla. Svaki manji panel sastoji se od 7 parova letvica (ukupno 14 letvica) koji se u zavisnosti od opsega svetlosti uvlače unutar 'U' profila ili se iz njega izvlače, odnosno, ako je opseg svetlosti preintenzivan, nadstrešnica se zatvara, praveći zasenu, a ukoliko je opseg svetlosti nedovoljan, nadstrešnica se otvara, dopuštajući svetlosti da dođe do šetališta.