Modul M6.2 Seminar, 2 ESPB
Naziv Predmeta: Istraživanje kroz projekat – Adaptivnost
docent Djordje Stojanović, asistent Milutin Cerović
Naziv predavanja: Šta kaže Hensel?
Sadržaj predavanja: Razjašnjenje performativne prirode arhitektonskog modela uz analizu slučajeva i pregled relevantnih primera
>
Diskusiju o mogućnostima primene performativnih modela u koncepciji prostornih organizacija počinjemo hronološkom sistematizacijom saznanja o pet pojmova ili termina koji inicijalno nastaju u različitim naučnim oblastima poput fiziologije, biologije i matematike, ali danas nalaze primenu u arhitektonskoj teoriji koja ukazuje na potrebe za preispitivanjem okvira delovanja u projektantskoj praksi. Prikaz obuhvata pojmove: samo-regulacije, otvorenih sistema, povratnih tokova informacija, samo-organizacije, i međusobno uzročnih odnosa. Putem intepretacije navedenih termina, u arhitektskom kontekstu istražujemo mogućnosti za reorganizaciju procesa arhitektonskog projektovanja i proširivanja polja delovanja. Prvenstveno, navedene pojmove istražujemo radi uspostavljanja projektantskih mehanizama za integraciju povratnih tokova informacija u proces koncepcije prostornih organizacija i ostvarivanja neposrednijeg i međusobno formativnog odnosa između arhitektonskog projekta i njegovog okruženja.
Termin "performansa", u kontekstu građevinske industrije, označava sposobnosti građevinskih materijala i njihovo ponašanje pod promenljivim uticajima kao što su atmosferski ili mehanički. Međutim, znanje o performansama materijala koje se razvija u oblasti građevinske fizike se prvenstveno primenjuje prekasno, u završnim fazama projektovanja i odnosi na post festum ulogu u izboru materijala i neretko ima manju težinu od ličnog iskustva ili nahođenja projektanta. U okviru ovog naučnog rada, istražujemo različito razumevanje termina "performansa" koje se vezuje za razvoj projektantskih alata, koji se zasnivaju na operativnoj primeni performativnih potencijala materije i njene imanentne sposobnosti  da proizvede prostorne organizacije, strukture i okruženja.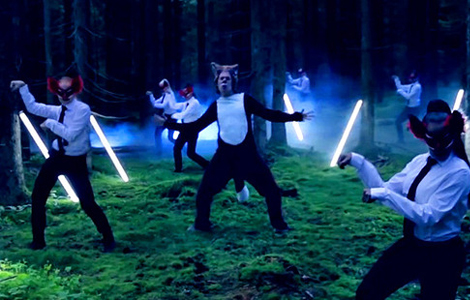 ©Ylvis: What Does the Fox Say? http://www.youtube.com/watch?v=jofNR_WkoCE
---
Izvori:
Hensel, M. 2010. Performance-oriented Architecture – Towards a Biological Paradigm for Architectural Design and the Built Environment. FORMAkademisk Volume 3 (1). pp.36-56.
Hensel, M. 2013. AD Primer – Performance-oriented Architecture – Rethinking Architectural Design and the Built Environment. London: AD Wiley
Kolarević, B. and Malkawi A. 2005. Performative Architecture: Beyond Instrumentality. London and New York: Spon Press (Taylor  and  Francis).
---
Terzidis, K. 2006. Algorithmic Architecture. Oxford: Architectural Press an imprint of Elsevier.
Schumacher, P. 2009. Parametricism – A New Global Style for Architecture and Urban Design. In: N. Leach ed. Digital Cities. Architectural Design Volume 79(4). London: John Wiley and Sons. pp.14-23.
Kolarević, B. 2003. Architecture in the Digital Age: Design and Manufacturing. London and New York: Spon Press (Taylor and Francis).
Stiny, G. and Gips, J. 1972. Shape grammars and the generative specification of painting and sculpture. In: Information Processing No 71. Amsterdam and New York: North-Holland Publishing Company. pp.1460-65.
Mitchell, W. J.  1990. The Logic of Architecture: Design, Computation, and Cognition. Cambridge, Massachusetts: MIT Press
Hoffmeister F. and Back T. 1991. Genetic Algorithms and Evolution Strategies: Similarities and Differences. Lecture Notes in Com­puter Science, 496. pp.681–89.
Holland, J. 1992. Adaptation in Natural and Artificial Systems: an introductory analysis with applications to biology, control, and artificial intelligence (1975). Cambridge
Freiser, J. 1995. An Evolutionary Architecture. London: Architectural Association Publications
Kauffman, S. A.  1993. The Origins of Order Self-Organization and Selection in Evolution. Oxford: University Press.
Cilliers P. 1998. Complexity and postmodernism: Understanding complex systems. London and New York: Routledge
Weinstock, M. 2008. Metabolism and Morphology. In: M. Hansel and A. Menges eds. Versatility and Vicissitude: Performance in Morpho-Ecological Design. Architectural Design Volume 78(2). London: Wiley Academy. pp.26–33
Reynolds C. W. 1987. Flocks, herds and schools: A distributed behavioral model. Computer Graphics 21(4). pp.25–34.
Fry B. and Reas C. 2001. Processing Wiki – Processing Architecture. (online)
Available at: <

http://wiki.processing.org/w/Processing_Architectur

e

> (Accessed 13 February 2013).
Varene F. and Phan, D. 2010. Agent-Based Models and Simulations in Economics and Social Sciences: from conceptual exploration to distinct ways of experimenting. Journal of Artificial Societies and Social Simulation JASSS, Number 13(1) 5. (online) Available at:

<

http://jasss.soc.surrey.ac.uk/13/1/5.html

> (Accessed 13 February 2013).
Studije slučaja:
Niklas Roy: My little piece of Privacy

http://www.niklasroy.com/

CITA: Lamala Flock

http://cita.karch.dk/

CITA: The Rise

http://thisisalive.com
Tags: Lectures