Modul M6.2 Seminar, 2 ESPB
Naziv Predmeta: Istraživanje kroz projekat – Adaptivnost
docent Djordje Stojanović, asistent Milutin Cerović
Naziv predavanja: Razdražena materija
Sadržaj predavanja: Razjašnjenje analogne prirode arhitektonskog modela uz analizu slučajeva i pregled relevantnih primera

Na ovom predavanju razmatramo analognog modela u arhitekturi i istražujemo specifične aspekte pristupa modelovanju koji istovremeno podržavaju i uslovljavaju razvoj adaptivnih principa u arhitektonskom projektovanju. U okviru ove diskusije, pojam analognog modelovanja, ima dvostruko značenje. Prvo se odnosi na fizičko ili prostorno modelovanje, naspram računarskog ili digitalnog, dok se drugo odnosi na analogno uspostavljanje odnosa između modela i predmeta modelovanja, i ima primenu u modelovanju složenih pojava, koje je gotovo nemoguće opisati razdvojeno od procesa koji ih definišu.
Na osnovu identifikacije analognih, mehaničkih i temporalnih aspekata arhitektonskog modelovanja, vršimo analizu relevantnih strategija koja obuhvata tehnike koje su razvijali Antonio Gaudi (Antonio Gaudi) španski arhitekta na početku dvadesetog veka prilikom projektovanja crkve Kolonije Guelj, Frej Oto (Frei Otto) nemački inženjer i osnivač Instituta za lake konstrukcije Univerziteta u Štutgartu (Institut für leichte Flächentragwerke Universität Stuttgart) tokom druge polovine dvadesetog veka u projektovanju membranskih konstrukcija, i savremeni američki arhitekta i istraživač Endrju Kadles (Andrew Kudless) koji razvija sistem fleksibilnih oplata.
Analogni aspekti modelovanja, zajedno sa mehaničkim i temporalnim, su identifikovani van okvira oblasti arhitektonskog projektovanja, u naučnim disciplinama geologije, astrologije, meteorologije i fiziologije, a potom su razmatrani u okvirima tehnika arhitektonskog modelovanja koje se zasnivaju na primeni prostornih ili fizičkih modela. Međutim, ovo predavanje se takođe bavi prepoznavanjem značaja ova tri aspekta u razvoju novih tehnika modelovanja koje se zasnivaju na primeni digitalno zasnovanih  tehnologija. Prikaz svih modela u okviru ove diskusije, dopunjen je pregledom mogućnosti unapređenja primenjenih tehnika modelovanja putem njihovog prevođenja u digitalni oblik. Ispitivanje približavanja fizičkih tehnika modelovanja i tehnika koje su zasnovane na primeni računara, čini jedan od osnovnih zadataka ovog  kursa.
Na osnovu analize relevantnih primera istražujemo značaj neposrednog rada sa gradivnim materijalom u eksperimentalnim tehnikama prostornog ili fizičkog modelovanja. Frej Oto se u velikoj meri oslanjao na eksperimentisanje putem prostornih ili fizičkih modela radi istraživanja "autonomnih procesa formacije", odnosno procesa koji se odvijaju samostalno prema zakonima fizike i hemije, i rezultuju stvaranjem forme. Na osnovu Otove strategije modelovanja, diskutujemo o značaju fizičkog analognog modelovanja u proširivanju polja delovanja u arhitektonskom projektovanju, putem razvijanja mogućnosti za neposredno uključivanje karakteristika gradivnog materijala i uticaja prirodnih zakona u proces koncepcije arhitektonskog projekta.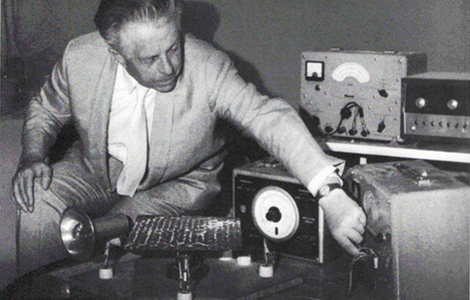 Hans Jenny, Cymatics: The Study of Wave Phenomena (Excited Matter) 1967
Izvori:
Lynn, G. 1999. Animate Form. New York:  Princeton Architectural Press.
Nerdinger, W. 2001. In: Herzog, T., Flagge, I., Herzog-Loibl, V., Meseure, eds. Architektur + Technologie = architecture + technology. München: Prestel.
Wachsmann, K. 1961. Turning point of building. New York: Reinhold.
Huerta, S. 2006. Structural Design in the Work of Gaudi. Architectural Science Review Volume 49(4). pp.324-39.
Barthel, R. 2005. Natural Forms: Architectural Forms. In: W. Nerdinger ed. Frei Otto Complete Works. Basel: Birkhauser. pp.17-30.
Meissner, I. 2005. In harmony with nature and technology: On Frei Otto's architecture and work method. In W. Nerdinger ed. Frei Otto Complete Works. Basel: Birkhauser. pp.17-30.
Kudless, A. 2011. Bodies in Formation: The material eVolumeution of flexible formworks. Proceedings of the 31st Annual Conference ACADIA. Banff, Alberta 13-16 October, 2011. pp.98-105.
Video:
Kudless, A. 2009. San Francisco Museum of Modern Art June Update. (online) Available at: <

http://matsysdesign.com/2009/06/25/sfmoma-update/

(Accessed 14 February 2013).
Block, P. 2013. Stone Skins: New Masonry Shells. Available at:

<

http://www.aaschool.ac.uk/VIDEO/lecture.php?ID=2048 (Accessed 14 February 2013).
Jenny, H. Cymatics. Available at:

http://www.youtube.com/watch?v=kWadDtIFPNs#t=27
Studije slučaja:
MATSYS

http://matsysdesign.com/

BLOCK Research Group

http://block.arch.ethz.ch/
Tomas Saraceno

http://www.tomassaraceno.com/

Numen

http://www.numen.eu/

Ciro Najle

http://cummulus1664.blogspot.com/
Tags: Lectures