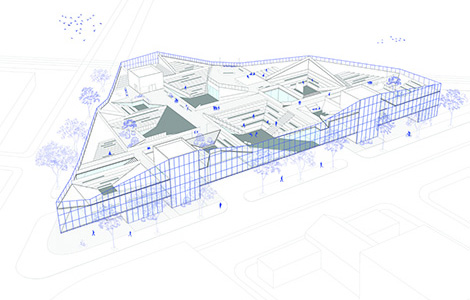 POLI-TEATAR
Poli-teatar je javni, otvoreni krovni park sa vizurama ka Dunavu koji se sastoji od 10 teatara/žižnih tačaka. Teatri se formiraju od zarubljenih piramida sa postoljem, stranice piramida su tribine ili rampe, a oko postolja se formiraju škole. Postolje piramide je centralna tačka svake škole i čini prostor fleksibilnim tako što je u funkciji skladišta, u svakom trenutku je moguće reorganizovati nameštaj, pomeriti pregradne zidove i dobiti prostore za nove vidove učenja. Ukoliko su okupljanja ili prenamena prostora, nameštaj i pregrade se skladište i dobija se čist i prazan prostor.
Poli-teatar se gradi kroz etaže, u prizemlju su raspoređeni elementi, na spratu elementi su povezani a nezavisni, a na krovu objedinjeni. Muzička škola, škola glume i škole jezika su u potpunosti zasebne jedinice, u prizemlju namenjene administraciji, na prvom spratu povezane zajedničkim prostorima za druženje i dodatnim sadržajima, a objedinjene krovnom baštom.
Poli-teatar je skup krovnih teatara, to je ono što je fiksno i zajedničko, ali politeatar je i sve ono što se dešava ispod krova, promenljivo i pojedinačno, što može da menja oblik, a promenom ne narušava celinu.
POLY-THEATER
Poly-theater is a public, roof top park with views towards the Danube river, which consists of 10 theaters / focal points. Theaters are formed from upside down truncated square pyramids with the stand; the sides of the pyramids are walking ramps or theatre seats, and schools are formed around the stand. The pyramid stand is the central point of each school and makes the space flexible by serving as storage; it is possible to reorganize the classrooms, to move furniture and partition walls into the storage so it results as a space for new ways of learning. If assembling takes place, furniture and partitions are stored and a wide and empty space is obtained.
Poly-theater forms as you move from the ground floor up to the roof. The components are laid out on the ground floor, on the first floor they are connected with each other but they function independently, and on the roof the components are unified into one whole. The music school, acting school and language schools are completely separate units, on the ground floor administration is based, on the first floor schools are connected via mutual areas for hanging out and having lectures, all united by the roof garden.
Poly-theater is a set of roof theaters – which is marked as fixed and mutual, but the poly-theater is everything that takes place under the roof as well – which is marked as variable and individual – everything which can endure the change, and with the change does not disturb the whole.