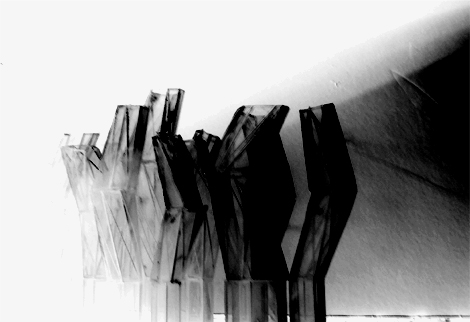 metaHrom.. . .. .. ….. .. . .. .library.
The initial concept has been that at such place should be made ​​an object that is not another masive solid form which continues to emphasize the separation of Kosančićev venac and other public spaces that are located all around the whole location.
With this building, I wanted to set up open, inverse space,inside  the location, which will allow to preserve the integrity of the block, and to connect individual streets.
The structure exists, but so that she separates and connects at the same time. Outwardly, the facility consists of a series of transparent towers with the function of reading or getting knowledge and various  information by different ways. The transparency of these rooms,and great views of the surrounding areas has a symbolic significance, because of opening horizons, spreading awareness, communication, openness and accessibility.
The main functions of the division of property is clear, and it was done on the generally accepted way, when depots libraries are under ground and reading rooms are above.
The towers are located on a plateau that has open access and that serve as gathering place for  events that have cultural or musical character, or used in other ways by the citizens and neighbors,  without any special restrictions.
The fact that such a transparent object is situated at the site of the old pre-war building libraries, emphasize the symbolic significance of what was lost in the bombing and what is by any new, large, solid structure can not be imitated or replaced.

metaHrom.. .. .  . . . … . …biblioteka
Pocetni koncept je da na ovakvom mestu treba da bude stvoren objekat koji nije jos jedan masivan cvrsti oblik koji i dalje naglasava odvojenost Kosancicevog venca i svih drugih javnih gradskih prostora koji se nalaze svuda oko te gradske celine.
Svojom zgradom sam hteo da unutar lokacije postavim otvoren, inverzni prostor, koji ce omoguciti da se sacuva celovitost bloka, ali i koji ce povezati pojedinacne ulice.
Struktura postoji, ali tako da ona i ogradjuje i ukljucuje. Spolja gledano, objekat se sastoji od niza transparentnih kula u kojima se cita, ili na neki drugi nacin dolazi do znanja i informacija. Transparentnost tih prostorija, i izuzetan pogled na okolne prostore ima simbolicki znacaj, jer je u pitanju otvaranje vidika, sirenje spoznaje, komunikacije, otvorenost, dostupnost.
Osnovna podela funkcija objekta je jasna, i uradjena na opste prihvacen nacin, kada depoi biblioteke idu pod zemlju, a citaonice iznad zemlje.
Kule se nalaze na platou koji ima otvoreni pristup, i koji sluzi kao mesto za okupljanje, dogadjaje koji imaju kulturni ili muzicki karakter, ili se koristi na druge nacine od strane gradjana ili suseda, bez posebnih ogranicenja.
Cinjenica da se ovako transparentan, u nekom smislu "providan" objekat nalazi na mestu stare zgrade predratne biblioteke simbolicki naglasava znacaj onoga sto je u tom bombardovanju izgubljeno i sto se nikakvom novom, velikom, cvrstom strukturom ne moze imitirati ili nadoknaditi.