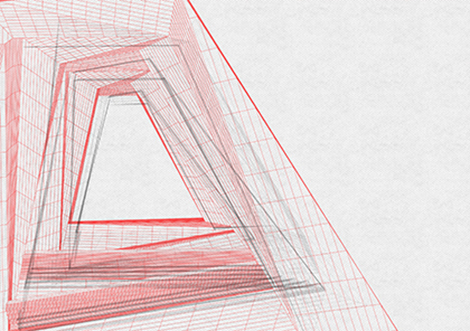 Controlling the soundscape through typological properties of acoustical spaces.
A sound in architecture is mainly observed through closed spaces of a specific purpose, such as auditoria, religious buildings, music studios, etc. However, this project researches the role of sound in shaping the open, public spaces. The absence of sound in project concepts resulted in unpleasant city public spaces and neglection of the auditory perception in defining the experience and impressions about our surrounding. Based on the principles for acoustic spaces design and spatial elements who are reacting to sound through technological systems, the main goal of this project is to create a model that can react to its sound environment, whit the idea to control it and make enjoyable public space.
Involvement of sound in defining a public space could again activate users attention and make him to closer observe the ambience. Space would no longer be perceived only in its physical form, but also in its aural dimension, the quality that directly impacts on creating the sense of joy and pleasantness and also making a different experience. Architecture created as a model of transferring the typological properties of an auditorium to the public space through sound, becomes a strong tool of communication between the environment and user, and as such, it can take over the role of media for presentation and promotion in space.
Kontorla zvučnog konteksta grada zasnovana na tipologiji akustičnih prostora
Zvuk u arhitekturi uglavnom je vezan za zatvorene prostore specifične namene poput auditorijuma, sakralnih objekata, muzičkih studija i slično. Međutim, ovaj rad istražuje ulogu zvuka u formiranju otvorenih, tj javnih prostora. Problem odsustva zvuka u projektantskim konceptima rezultovao je nelagodnim javnim gradskim prostorima i zanemarivanju uloge slušne percepcije u doživljaju i stvaranju utisaka o kvalitetu prostora. Oslanjajući se na principe projektovanja akustičnih prostora i prostorne elemente koji tehnološkim putem reaguju na zvuk, cilj projekta je postavka modela koji reaguje na svoje zvučno okruženje sa svrhom kontrole zvučnog konteksta i stvaranja ugodnog javnog prostora grada.
Zvuk uključen u definisanje javnog prostora može ponovo aktivirati korisnikovu pažnju i navesti ga na pomnije opažanje okoline. Prostor se više ne percepira samo u svojoj fizičkoj, već i u slušnoj dimenziji, tj kvalitetom koji direktno utiče na stvaranje osećaja zadovoljstva, užitka boravka u javnom prostoru i stvaranje drugačijeg iskustva. Arhitektura nastala kao model prenošenja tipologije auditorijuma na javni prostor, posredstvom zvuka postaje snažno sredstvo komunikacije okruženja i korisnika, a kao takva preuzima i ulogu medija prezentacije kompanije u prostoru.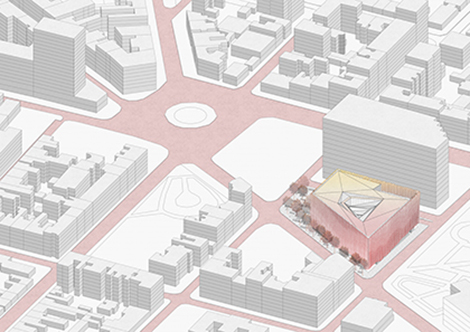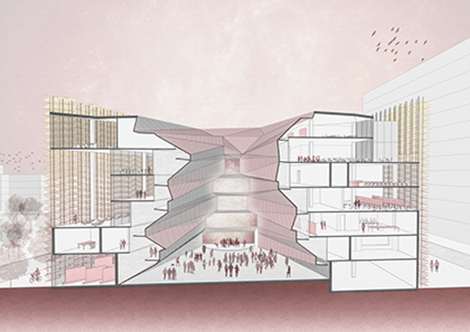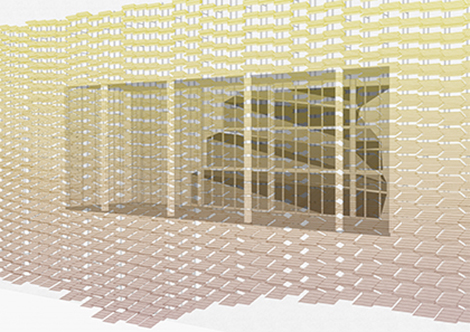 _programska šema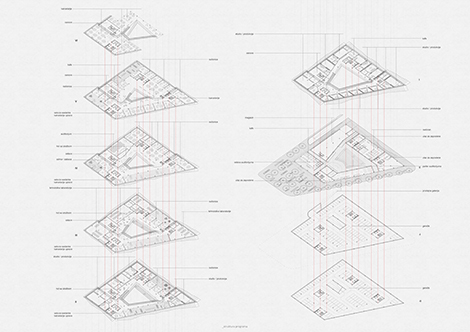 _osnova partera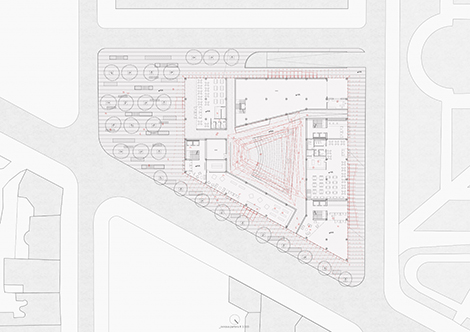 _prikaz svih osnova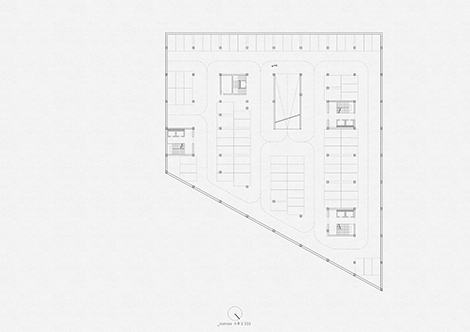 _presek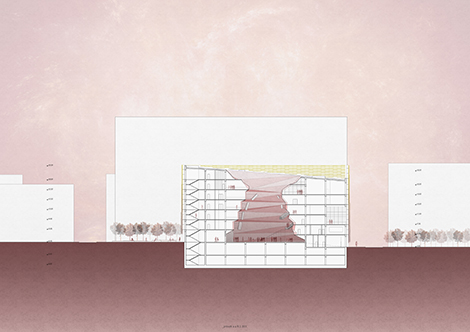 _šema aktivnosti akustičnog atrijuma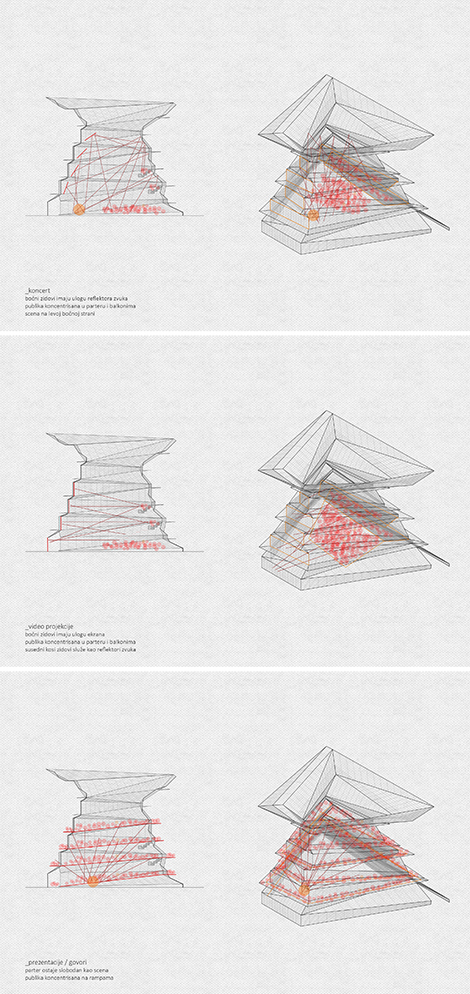 _sistem zvučno senzibilne fasade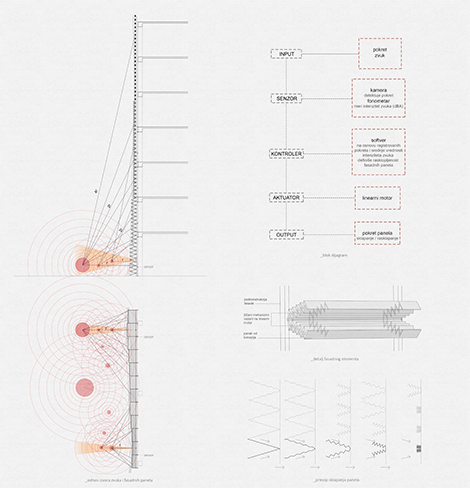 _razvijen omotač fasade i promena izgleda tokom dana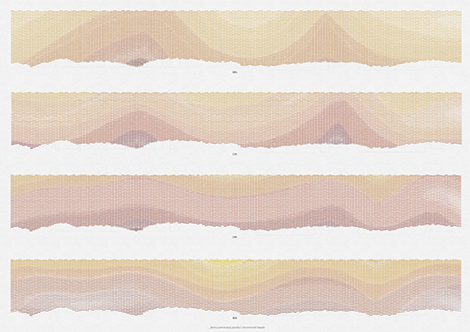 _fotografije maketa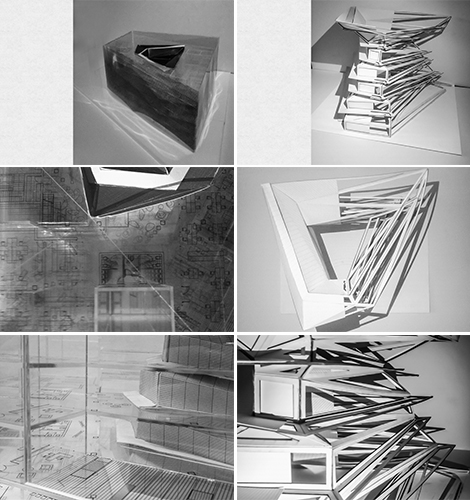 _prototip fasade